Warning
: tempnam(): open_basedir restriction in effect. File(/tmp) is not within the allowed path(s): (/home/klient.dhosting.pl/mmkielce/mobilestage.in/:/home/klient.dhosting.pl/mmkielce/.tmp/:/demonek/www/public/bledy.demonek.com/:/usr/local/lsws/share/autoindex:/usr/local/php/:/dev/urandom:/opt/alt/php53/usr/share/pear/:/opt/alt/php54/usr/share/pear/:/opt/alt/php55/usr/share/pear/:/opt/alt/php56/usr/share/pear/:/opt/alt/php70/usr/share/pear/:/opt/alt/php71/usr/share/pear/:/opt/alt/php72/usr/share/pear/:/opt/alt/php73/usr/share/pear/:/opt/alt/php74/usr/share/pear/:/opt/alt/php80/usr/share/pear/:/opt/alt/php81/usr/share/pear/:/opt/alt/php53/usr/share/php:/opt/alt/php54/usr/share/php:/opt/alt/php55/usr/share/php:/opt/alt/php56/usr/share/php:/opt/alt/php70/usr/share/php:/opt/alt/php71/usr/share/php:/opt/alt/php72/usr/share/php:/opt/alt/php73/usr/share/php:/opt/alt/php74/usr/share/php:/opt/alt/php80/usr/share/php:/opt/alt/php81/usr/share/php:/opt/alt/php53/:/opt/alt/php54/:/opt/alt/php55/:/opt/alt/php56:/opt/alt/php70/:/ in
/home/klient.dhosting.pl/mmkielce/mobilestage.in/public_html/wp-content/plugins/wp-appbox/inc/getappinfo.class.php
on line
442
Warning
: tempnam(): open_basedir restriction in effect. File(/tmp) is not within the allowed path(s): (/home/klient.dhosting.pl/mmkielce/mobilestage.in/:/home/klient.dhosting.pl/mmkielce/.tmp/:/demonek/www/public/bledy.demonek.com/:/usr/local/lsws/share/autoindex:/usr/local/php/:/dev/urandom:/opt/alt/php53/usr/share/pear/:/opt/alt/php54/usr/share/pear/:/opt/alt/php55/usr/share/pear/:/opt/alt/php56/usr/share/pear/:/opt/alt/php70/usr/share/pear/:/opt/alt/php71/usr/share/pear/:/opt/alt/php72/usr/share/pear/:/opt/alt/php73/usr/share/pear/:/opt/alt/php74/usr/share/pear/:/opt/alt/php80/usr/share/pear/:/opt/alt/php81/usr/share/pear/:/opt/alt/php53/usr/share/php:/opt/alt/php54/usr/share/php:/opt/alt/php55/usr/share/php:/opt/alt/php56/usr/share/php:/opt/alt/php70/usr/share/php:/opt/alt/php71/usr/share/php:/opt/alt/php72/usr/share/php:/opt/alt/php73/usr/share/php:/opt/alt/php74/usr/share/php:/opt/alt/php80/usr/share/php:/opt/alt/php81/usr/share/php:/opt/alt/php53/:/opt/alt/php54/:/opt/alt/php55/:/opt/alt/php56:/opt/alt/php70/:/ in
/home/klient.dhosting.pl/mmkielce/mobilestage.in/public_html/wp-content/plugins/wp-appbox/inc/getappinfo.class.php
on line
442
Warning
: tempnam(): open_basedir restriction in effect. File(/tmp) is not within the allowed path(s): (/home/klient.dhosting.pl/mmkielce/mobilestage.in/:/home/klient.dhosting.pl/mmkielce/.tmp/:/demonek/www/public/bledy.demonek.com/:/usr/local/lsws/share/autoindex:/usr/local/php/:/dev/urandom:/opt/alt/php53/usr/share/pear/:/opt/alt/php54/usr/share/pear/:/opt/alt/php55/usr/share/pear/:/opt/alt/php56/usr/share/pear/:/opt/alt/php70/usr/share/pear/:/opt/alt/php71/usr/share/pear/:/opt/alt/php72/usr/share/pear/:/opt/alt/php73/usr/share/pear/:/opt/alt/php74/usr/share/pear/:/opt/alt/php80/usr/share/pear/:/opt/alt/php81/usr/share/pear/:/opt/alt/php53/usr/share/php:/opt/alt/php54/usr/share/php:/opt/alt/php55/usr/share/php:/opt/alt/php56/usr/share/php:/opt/alt/php70/usr/share/php:/opt/alt/php71/usr/share/php:/opt/alt/php72/usr/share/php:/opt/alt/php73/usr/share/php:/opt/alt/php74/usr/share/php:/opt/alt/php80/usr/share/php:/opt/alt/php81/usr/share/php:/opt/alt/php53/:/opt/alt/php54/:/opt/alt/php55/:/opt/alt/php56:/opt/alt/php70/:/ in
/home/klient.dhosting.pl/mmkielce/mobilestage.in/public_html/wp-content/plugins/wp-appbox/inc/getappinfo.class.php
on line
442
Warning
: tempnam(): open_basedir restriction in effect. File(/tmp) is not within the allowed path(s): (/home/klient.dhosting.pl/mmkielce/mobilestage.in/:/home/klient.dhosting.pl/mmkielce/.tmp/:/demonek/www/public/bledy.demonek.com/:/usr/local/lsws/share/autoindex:/usr/local/php/:/dev/urandom:/opt/alt/php53/usr/share/pear/:/opt/alt/php54/usr/share/pear/:/opt/alt/php55/usr/share/pear/:/opt/alt/php56/usr/share/pear/:/opt/alt/php70/usr/share/pear/:/opt/alt/php71/usr/share/pear/:/opt/alt/php72/usr/share/pear/:/opt/alt/php73/usr/share/pear/:/opt/alt/php74/usr/share/pear/:/opt/alt/php80/usr/share/pear/:/opt/alt/php81/usr/share/pear/:/opt/alt/php53/usr/share/php:/opt/alt/php54/usr/share/php:/opt/alt/php55/usr/share/php:/opt/alt/php56/usr/share/php:/opt/alt/php70/usr/share/php:/opt/alt/php71/usr/share/php:/opt/alt/php72/usr/share/php:/opt/alt/php73/usr/share/php:/opt/alt/php74/usr/share/php:/opt/alt/php80/usr/share/php:/opt/alt/php81/usr/share/php:/opt/alt/php53/:/opt/alt/php54/:/opt/alt/php55/:/opt/alt/php56:/opt/alt/php70/:/ in
/home/klient.dhosting.pl/mmkielce/mobilestage.in/public_html/wp-content/plugins/wp-appbox/inc/getappinfo.class.php
on line
442
Warning
: tempnam(): open_basedir restriction in effect. File(/tmp) is not within the allowed path(s): (/home/klient.dhosting.pl/mmkielce/mobilestage.in/:/home/klient.dhosting.pl/mmkielce/.tmp/:/demonek/www/public/bledy.demonek.com/:/usr/local/lsws/share/autoindex:/usr/local/php/:/dev/urandom:/opt/alt/php53/usr/share/pear/:/opt/alt/php54/usr/share/pear/:/opt/alt/php55/usr/share/pear/:/opt/alt/php56/usr/share/pear/:/opt/alt/php70/usr/share/pear/:/opt/alt/php71/usr/share/pear/:/opt/alt/php72/usr/share/pear/:/opt/alt/php73/usr/share/pear/:/opt/alt/php74/usr/share/pear/:/opt/alt/php80/usr/share/pear/:/opt/alt/php81/usr/share/pear/:/opt/alt/php53/usr/share/php:/opt/alt/php54/usr/share/php:/opt/alt/php55/usr/share/php:/opt/alt/php56/usr/share/php:/opt/alt/php70/usr/share/php:/opt/alt/php71/usr/share/php:/opt/alt/php72/usr/share/php:/opt/alt/php73/usr/share/php:/opt/alt/php74/usr/share/php:/opt/alt/php80/usr/share/php:/opt/alt/php81/usr/share/php:/opt/alt/php53/:/opt/alt/php54/:/opt/alt/php55/:/opt/alt/php56:/opt/alt/php70/:/ in
/home/klient.dhosting.pl/mmkielce/mobilestage.in/public_html/wp-content/plugins/wp-appbox/inc/getappinfo.class.php
on line
442
Wstęp
W życiu każdego użytkownika Androida pojawia się taki moment, w którym obecny wygląd naszego pulpitu najzwyczajniej w świecie się przejada. W takim wypadku, większość z nas ogranicza się do zmiany tapety. Ci bardziej kreatywni zaszaleją, zmieniając układ kilku ikonek i widgetów. Lecz największy urozmaiceniem pulpitowej monotonii (prócz oczywiście zmiany launchera, czyli "nakładki" na system, zmieniającej wygląd i właściwości ekranów domowych oraz listy aplikacji) jest zastosowanie zamienników ikonek, tzw. icon packów.
Z czym to się je? W Sklepie Play znajdziecie sporą ilość aplikacji, które zawieraja zmodyfikowane ikony. Po pobraniu jednej z nich, wystarczy ją uruchomić oraz wybrać launcher, który w obecnej chwili użytkujemy. Parę sekund i voila! Po powrocie do pulpitu, możemy podziwiać zmiany.
Tyle słowami wstępu. Poniżej znajdziecie zestawienie najciekawszych w mojej opinii icon packów. Zestawiania te będą pojawiały się od czasu do czasu, kiedy to uda mi się zebrać kilka ładnych, dopracowanych i estetycznych paczek. Dajcie znać w komentarzach, czy jesteście tym zainteresowani. :)
Click UI
Okrągłe, kolorowe ikony. Ich plusem jest spora ilość obsługiwanych programów – nawet jeśli paczka nie posiada w standardzie zamiennika ikonki jakiegoś programu, sprawia, że oryginał przybiera okrągły kształt, przez co nie zdarzają się niespójności.
Octa UI
Utrzymane w płaskim stylu ośmiokątne ikony bez wątpienia mogą się podobać – jest to jedna z moich ulubionych paczek. Tak samo, jak w przypadku poprzednika – kiedy aplikacja nie posiada swojego odpowiednika ikonki w Octa UI, przybiera ona po prostu postać ośmiokąta. Paczka ta była używana przeze w trakcie tworzenia recenzji OnePlus One – możecie zobaczyć, jak prezentuje się ona w "akcji" pod tym linkiem.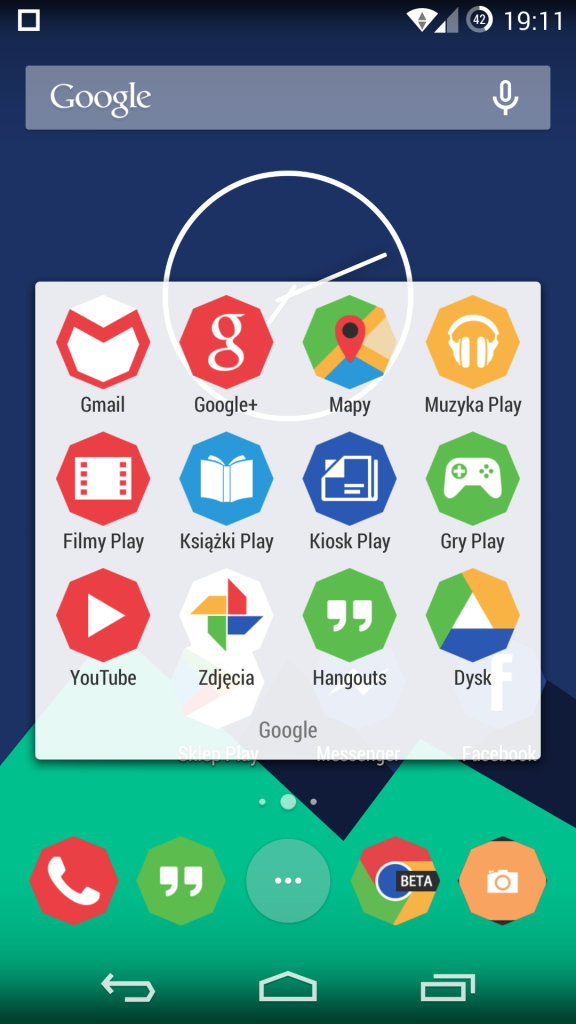 Bleach
Pastelowe, o ciekawym kształcie – niestety, na spory minus brak jakiegokolwiek przystosowania niewspieranych ikon, przez co występują spore niespójności. Estetów będzie to kłuć w oczy.
Flatro
Również okrągłe, pastelowe ikonki. Spora lista wspieranych aplikacji. W przypadku braku zamiennika – ikonki nabierają okrągłych kształtów. Mój osobisty numer dwa po Octa UI.
Moonshine
Na koniec zostawiłem jeden z ciekawszych icon packów ostatnich miesięcy – ikony stylizowane na przeciekach odnośnie (niezapowiedzianego jeszcze w tamtym momencie) Androida 4.5 zdobyły niemałą popularność. Są one płaskie,  bez  określonej formy, bogate w kolory. Niestety, spora liczba aplikacji jest przez nie niewspierana (aczkolwiek poprzez ich design, niespójność nie kłuje w oczy).