Warning
: tempnam(): open_basedir restriction in effect. File(/tmp) is not within the allowed path(s): (/home/klient.dhosting.pl/mmkielce/mobilestage.in/:/home/klient.dhosting.pl/mmkielce/.tmp/:/demonek/www/public/bledy.demonek.com/:/usr/local/lsws/share/autoindex:/usr/local/php/:/dev/urandom:/opt/alt/php53/usr/share/pear/:/opt/alt/php54/usr/share/pear/:/opt/alt/php55/usr/share/pear/:/opt/alt/php56/usr/share/pear/:/opt/alt/php70/usr/share/pear/:/opt/alt/php71/usr/share/pear/:/opt/alt/php72/usr/share/pear/:/opt/alt/php73/usr/share/pear/:/opt/alt/php74/usr/share/pear/:/opt/alt/php80/usr/share/pear/:/opt/alt/php81/usr/share/pear/:/opt/alt/php53/usr/share/php:/opt/alt/php54/usr/share/php:/opt/alt/php55/usr/share/php:/opt/alt/php56/usr/share/php:/opt/alt/php70/usr/share/php:/opt/alt/php71/usr/share/php:/opt/alt/php72/usr/share/php:/opt/alt/php73/usr/share/php:/opt/alt/php74/usr/share/php:/opt/alt/php80/usr/share/php:/opt/alt/php81/usr/share/php:/opt/alt/php53/:/opt/alt/php54/:/opt/alt/php55/:/opt/alt/php56:/opt/alt/php70/:/ in
/home/klient.dhosting.pl/mmkielce/mobilestage.in/public_html/wp-content/plugins/wp-appbox/inc/getappinfo.class.php
on line
442
Warning
: tempnam(): open_basedir restriction in effect. File(/tmp) is not within the allowed path(s): (/home/klient.dhosting.pl/mmkielce/mobilestage.in/:/home/klient.dhosting.pl/mmkielce/.tmp/:/demonek/www/public/bledy.demonek.com/:/usr/local/lsws/share/autoindex:/usr/local/php/:/dev/urandom:/opt/alt/php53/usr/share/pear/:/opt/alt/php54/usr/share/pear/:/opt/alt/php55/usr/share/pear/:/opt/alt/php56/usr/share/pear/:/opt/alt/php70/usr/share/pear/:/opt/alt/php71/usr/share/pear/:/opt/alt/php72/usr/share/pear/:/opt/alt/php73/usr/share/pear/:/opt/alt/php74/usr/share/pear/:/opt/alt/php80/usr/share/pear/:/opt/alt/php81/usr/share/pear/:/opt/alt/php53/usr/share/php:/opt/alt/php54/usr/share/php:/opt/alt/php55/usr/share/php:/opt/alt/php56/usr/share/php:/opt/alt/php70/usr/share/php:/opt/alt/php71/usr/share/php:/opt/alt/php72/usr/share/php:/opt/alt/php73/usr/share/php:/opt/alt/php74/usr/share/php:/opt/alt/php80/usr/share/php:/opt/alt/php81/usr/share/php:/opt/alt/php53/:/opt/alt/php54/:/opt/alt/php55/:/opt/alt/php56:/opt/alt/php70/:/ in
/home/klient.dhosting.pl/mmkielce/mobilestage.in/public_html/wp-content/plugins/wp-appbox/inc/getappinfo.class.php
on line
442
Warning
: tempnam(): open_basedir restriction in effect. File(/tmp) is not within the allowed path(s): (/home/klient.dhosting.pl/mmkielce/mobilestage.in/:/home/klient.dhosting.pl/mmkielce/.tmp/:/demonek/www/public/bledy.demonek.com/:/usr/local/lsws/share/autoindex:/usr/local/php/:/dev/urandom:/opt/alt/php53/usr/share/pear/:/opt/alt/php54/usr/share/pear/:/opt/alt/php55/usr/share/pear/:/opt/alt/php56/usr/share/pear/:/opt/alt/php70/usr/share/pear/:/opt/alt/php71/usr/share/pear/:/opt/alt/php72/usr/share/pear/:/opt/alt/php73/usr/share/pear/:/opt/alt/php74/usr/share/pear/:/opt/alt/php80/usr/share/pear/:/opt/alt/php81/usr/share/pear/:/opt/alt/php53/usr/share/php:/opt/alt/php54/usr/share/php:/opt/alt/php55/usr/share/php:/opt/alt/php56/usr/share/php:/opt/alt/php70/usr/share/php:/opt/alt/php71/usr/share/php:/opt/alt/php72/usr/share/php:/opt/alt/php73/usr/share/php:/opt/alt/php74/usr/share/php:/opt/alt/php80/usr/share/php:/opt/alt/php81/usr/share/php:/opt/alt/php53/:/opt/alt/php54/:/opt/alt/php55/:/opt/alt/php56:/opt/alt/php70/:/ in
/home/klient.dhosting.pl/mmkielce/mobilestage.in/public_html/wp-content/plugins/wp-appbox/inc/getappinfo.class.php
on line
442
Warning
: tempnam(): open_basedir restriction in effect. File(/tmp) is not within the allowed path(s): (/home/klient.dhosting.pl/mmkielce/mobilestage.in/:/home/klient.dhosting.pl/mmkielce/.tmp/:/demonek/www/public/bledy.demonek.com/:/usr/local/lsws/share/autoindex:/usr/local/php/:/dev/urandom:/opt/alt/php53/usr/share/pear/:/opt/alt/php54/usr/share/pear/:/opt/alt/php55/usr/share/pear/:/opt/alt/php56/usr/share/pear/:/opt/alt/php70/usr/share/pear/:/opt/alt/php71/usr/share/pear/:/opt/alt/php72/usr/share/pear/:/opt/alt/php73/usr/share/pear/:/opt/alt/php74/usr/share/pear/:/opt/alt/php80/usr/share/pear/:/opt/alt/php81/usr/share/pear/:/opt/alt/php53/usr/share/php:/opt/alt/php54/usr/share/php:/opt/alt/php55/usr/share/php:/opt/alt/php56/usr/share/php:/opt/alt/php70/usr/share/php:/opt/alt/php71/usr/share/php:/opt/alt/php72/usr/share/php:/opt/alt/php73/usr/share/php:/opt/alt/php74/usr/share/php:/opt/alt/php80/usr/share/php:/opt/alt/php81/usr/share/php:/opt/alt/php53/:/opt/alt/php54/:/opt/alt/php55/:/opt/alt/php56:/opt/alt/php70/:/ in
/home/klient.dhosting.pl/mmkielce/mobilestage.in/public_html/wp-content/plugins/wp-appbox/inc/getappinfo.class.php
on line
442
Warning
: tempnam(): open_basedir restriction in effect. File(/tmp) is not within the allowed path(s): (/home/klient.dhosting.pl/mmkielce/mobilestage.in/:/home/klient.dhosting.pl/mmkielce/.tmp/:/demonek/www/public/bledy.demonek.com/:/usr/local/lsws/share/autoindex:/usr/local/php/:/dev/urandom:/opt/alt/php53/usr/share/pear/:/opt/alt/php54/usr/share/pear/:/opt/alt/php55/usr/share/pear/:/opt/alt/php56/usr/share/pear/:/opt/alt/php70/usr/share/pear/:/opt/alt/php71/usr/share/pear/:/opt/alt/php72/usr/share/pear/:/opt/alt/php73/usr/share/pear/:/opt/alt/php74/usr/share/pear/:/opt/alt/php80/usr/share/pear/:/opt/alt/php81/usr/share/pear/:/opt/alt/php53/usr/share/php:/opt/alt/php54/usr/share/php:/opt/alt/php55/usr/share/php:/opt/alt/php56/usr/share/php:/opt/alt/php70/usr/share/php:/opt/alt/php71/usr/share/php:/opt/alt/php72/usr/share/php:/opt/alt/php73/usr/share/php:/opt/alt/php74/usr/share/php:/opt/alt/php80/usr/share/php:/opt/alt/php81/usr/share/php:/opt/alt/php53/:/opt/alt/php54/:/opt/alt/php55/:/opt/alt/php56:/opt/alt/php70/:/ in
/home/klient.dhosting.pl/mmkielce/mobilestage.in/public_html/wp-content/plugins/wp-appbox/inc/getappinfo.class.php
on line
442
Warning
: tempnam(): open_basedir restriction in effect. File(/tmp) is not within the allowed path(s): (/home/klient.dhosting.pl/mmkielce/mobilestage.in/:/home/klient.dhosting.pl/mmkielce/.tmp/:/demonek/www/public/bledy.demonek.com/:/usr/local/lsws/share/autoindex:/usr/local/php/:/dev/urandom:/opt/alt/php53/usr/share/pear/:/opt/alt/php54/usr/share/pear/:/opt/alt/php55/usr/share/pear/:/opt/alt/php56/usr/share/pear/:/opt/alt/php70/usr/share/pear/:/opt/alt/php71/usr/share/pear/:/opt/alt/php72/usr/share/pear/:/opt/alt/php73/usr/share/pear/:/opt/alt/php74/usr/share/pear/:/opt/alt/php80/usr/share/pear/:/opt/alt/php81/usr/share/pear/:/opt/alt/php53/usr/share/php:/opt/alt/php54/usr/share/php:/opt/alt/php55/usr/share/php:/opt/alt/php56/usr/share/php:/opt/alt/php70/usr/share/php:/opt/alt/php71/usr/share/php:/opt/alt/php72/usr/share/php:/opt/alt/php73/usr/share/php:/opt/alt/php74/usr/share/php:/opt/alt/php80/usr/share/php:/opt/alt/php81/usr/share/php:/opt/alt/php53/:/opt/alt/php54/:/opt/alt/php55/:/opt/alt/php56:/opt/alt/php70/:/ in
/home/klient.dhosting.pl/mmkielce/mobilestage.in/public_html/wp-content/plugins/wp-appbox/inc/getappinfo.class.php
on line
442
Warning
: tempnam(): open_basedir restriction in effect. File(/tmp) is not within the allowed path(s): (/home/klient.dhosting.pl/mmkielce/mobilestage.in/:/home/klient.dhosting.pl/mmkielce/.tmp/:/demonek/www/public/bledy.demonek.com/:/usr/local/lsws/share/autoindex:/usr/local/php/:/dev/urandom:/opt/alt/php53/usr/share/pear/:/opt/alt/php54/usr/share/pear/:/opt/alt/php55/usr/share/pear/:/opt/alt/php56/usr/share/pear/:/opt/alt/php70/usr/share/pear/:/opt/alt/php71/usr/share/pear/:/opt/alt/php72/usr/share/pear/:/opt/alt/php73/usr/share/pear/:/opt/alt/php74/usr/share/pear/:/opt/alt/php80/usr/share/pear/:/opt/alt/php81/usr/share/pear/:/opt/alt/php53/usr/share/php:/opt/alt/php54/usr/share/php:/opt/alt/php55/usr/share/php:/opt/alt/php56/usr/share/php:/opt/alt/php70/usr/share/php:/opt/alt/php71/usr/share/php:/opt/alt/php72/usr/share/php:/opt/alt/php73/usr/share/php:/opt/alt/php74/usr/share/php:/opt/alt/php80/usr/share/php:/opt/alt/php81/usr/share/php:/opt/alt/php53/:/opt/alt/php54/:/opt/alt/php55/:/opt/alt/php56:/opt/alt/php70/:/ in
/home/klient.dhosting.pl/mmkielce/mobilestage.in/public_html/wp-content/plugins/wp-appbox/inc/getappinfo.class.php
on line
442
Warning
: tempnam(): open_basedir restriction in effect. File(/tmp) is not within the allowed path(s): (/home/klient.dhosting.pl/mmkielce/mobilestage.in/:/home/klient.dhosting.pl/mmkielce/.tmp/:/demonek/www/public/bledy.demonek.com/:/usr/local/lsws/share/autoindex:/usr/local/php/:/dev/urandom:/opt/alt/php53/usr/share/pear/:/opt/alt/php54/usr/share/pear/:/opt/alt/php55/usr/share/pear/:/opt/alt/php56/usr/share/pear/:/opt/alt/php70/usr/share/pear/:/opt/alt/php71/usr/share/pear/:/opt/alt/php72/usr/share/pear/:/opt/alt/php73/usr/share/pear/:/opt/alt/php74/usr/share/pear/:/opt/alt/php80/usr/share/pear/:/opt/alt/php81/usr/share/pear/:/opt/alt/php53/usr/share/php:/opt/alt/php54/usr/share/php:/opt/alt/php55/usr/share/php:/opt/alt/php56/usr/share/php:/opt/alt/php70/usr/share/php:/opt/alt/php71/usr/share/php:/opt/alt/php72/usr/share/php:/opt/alt/php73/usr/share/php:/opt/alt/php74/usr/share/php:/opt/alt/php80/usr/share/php:/opt/alt/php81/usr/share/php:/opt/alt/php53/:/opt/alt/php54/:/opt/alt/php55/:/opt/alt/php56:/opt/alt/php70/:/ in
/home/klient.dhosting.pl/mmkielce/mobilestage.in/public_html/wp-content/plugins/wp-appbox/inc/getappinfo.class.php
on line
442
Warning
: tempnam(): open_basedir restriction in effect. File(/tmp) is not within the allowed path(s): (/home/klient.dhosting.pl/mmkielce/mobilestage.in/:/home/klient.dhosting.pl/mmkielce/.tmp/:/demonek/www/public/bledy.demonek.com/:/usr/local/lsws/share/autoindex:/usr/local/php/:/dev/urandom:/opt/alt/php53/usr/share/pear/:/opt/alt/php54/usr/share/pear/:/opt/alt/php55/usr/share/pear/:/opt/alt/php56/usr/share/pear/:/opt/alt/php70/usr/share/pear/:/opt/alt/php71/usr/share/pear/:/opt/alt/php72/usr/share/pear/:/opt/alt/php73/usr/share/pear/:/opt/alt/php74/usr/share/pear/:/opt/alt/php80/usr/share/pear/:/opt/alt/php81/usr/share/pear/:/opt/alt/php53/usr/share/php:/opt/alt/php54/usr/share/php:/opt/alt/php55/usr/share/php:/opt/alt/php56/usr/share/php:/opt/alt/php70/usr/share/php:/opt/alt/php71/usr/share/php:/opt/alt/php72/usr/share/php:/opt/alt/php73/usr/share/php:/opt/alt/php74/usr/share/php:/opt/alt/php80/usr/share/php:/opt/alt/php81/usr/share/php:/opt/alt/php53/:/opt/alt/php54/:/opt/alt/php55/:/opt/alt/php56:/opt/alt/php70/:/ in
/home/klient.dhosting.pl/mmkielce/mobilestage.in/public_html/wp-content/plugins/wp-appbox/inc/getappinfo.class.php
on line
442
Warning
: tempnam(): open_basedir restriction in effect. File(/tmp) is not within the allowed path(s): (/home/klient.dhosting.pl/mmkielce/mobilestage.in/:/home/klient.dhosting.pl/mmkielce/.tmp/:/demonek/www/public/bledy.demonek.com/:/usr/local/lsws/share/autoindex:/usr/local/php/:/dev/urandom:/opt/alt/php53/usr/share/pear/:/opt/alt/php54/usr/share/pear/:/opt/alt/php55/usr/share/pear/:/opt/alt/php56/usr/share/pear/:/opt/alt/php70/usr/share/pear/:/opt/alt/php71/usr/share/pear/:/opt/alt/php72/usr/share/pear/:/opt/alt/php73/usr/share/pear/:/opt/alt/php74/usr/share/pear/:/opt/alt/php80/usr/share/pear/:/opt/alt/php81/usr/share/pear/:/opt/alt/php53/usr/share/php:/opt/alt/php54/usr/share/php:/opt/alt/php55/usr/share/php:/opt/alt/php56/usr/share/php:/opt/alt/php70/usr/share/php:/opt/alt/php71/usr/share/php:/opt/alt/php72/usr/share/php:/opt/alt/php73/usr/share/php:/opt/alt/php74/usr/share/php:/opt/alt/php80/usr/share/php:/opt/alt/php81/usr/share/php:/opt/alt/php53/:/opt/alt/php54/:/opt/alt/php55/:/opt/alt/php56:/opt/alt/php70/:/ in
/home/klient.dhosting.pl/mmkielce/mobilestage.in/public_html/wp-content/plugins/wp-appbox/inc/getappinfo.class.php
on line
442
Wczoraj wieczorem na Facebook-u opublikowaliśmy informację o naszym wsparciu dla akcji #jedzjabłka. Mimo, że jest to tylko zryw wśród polskich internautów to według nas jest to również znak solidarności i braku pochwały dla embarga na polskie owoce i warzywa. Pomijając jednak aspekt polityczny, który zainicjował pomysł stworzenia takiego artykułu zapraszamy do lektury recenzji kilku gier, w której występują jabłka, a które udało się nam w dość krótkim czasie odnaleźć w czeluściach sklepów z aplikacjami. Dodam również, że jest to pierwszy przegląd gier i aplikacji o określonej tematyce. Kolejne będą publikowane już niedługo!
Granny Smith
Dziarska staruszka i młody gagatek. Co z takiego połączenia może wyjść? Oczywiście zwariowana gra zręcznościowa. Naszym zadaniem jest zbieranie owoców (patrząc na tytuł wiemy, że są to Granny Smith, czyli specjalna odmiana australijskich jabłek) przez babcię, którą sterujemy. Musimy być jednak zwinniejsi i szybsi od młodzieńca, który próbuje ubiec starszą panią i tuż przed nią zabrać jej pożytki natury. Jak łatwo się domyślić nie możemy na to pozwolić!
Deweloperzy przygotowali dla nas liczne poziomy i ciekawą fizykę jazdy. Babcia wyposażona została w rolki i laskę. Za pomocą tej drugiej możemy szybko nabrać prędkości , a co za tym idzie – wyprzedzić małego złodzieja, a jak nam się zamarzy to wykonamy również kilka mrożących krew w żyłach akrobacji staruszką (z kawałkiem drewna naprawdę możemy zdziałać cuda – rozbić przeszkody czy zaczepić o linę). Każdy kolejny poziom jest bardziej zwariowany od poprzedniego, a przy tym dłuższy i ciekawszy wizualnie. Różnego rodzaju "przeszkadzajki" dodatkowo utrudniają nam zadanie. Musimy również pamiętać, aby nie tylko zbierać jabłka, ale i również pieniążki rozrzucone po planszy.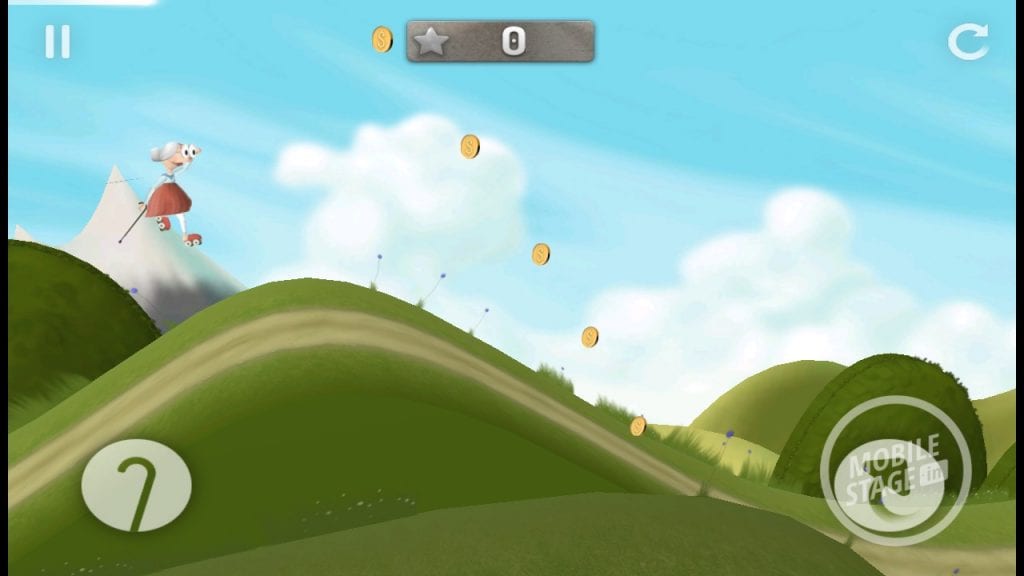 Gra miała swoją premierę parę lat temu, ale mimo to także dzisiaj grafika na swój sposób zachwyca (utrzymana jest w klimacie vintage). Dodatkowo fajna oprawa muzyczna jest również na plus. Niestety za pełną przyjemność zabawy przyjdzie nam zapłacić, ale jeżeli nie jesteśmy pewni zakupu to oczywiście możemy wybrać ograniczoną wersję bezpłatną. Mimo wszystko jest to gra, która warta jest swojej ceny i do której chętnie wracam.
Shoot the Apple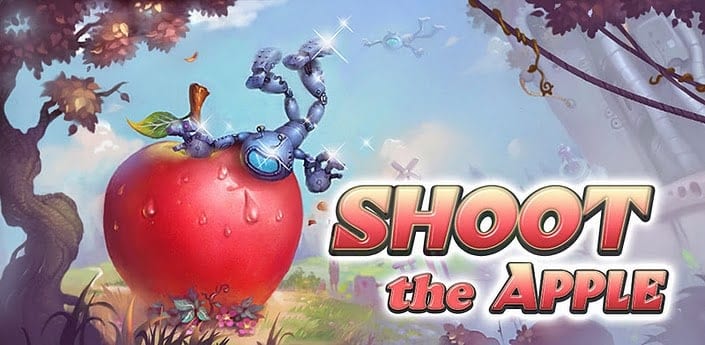 Shoot the Apple to prosta gra logiczno-zręcznościowa. Swoją premierę miało już dość dawno, ale mimo to cieszy się dużą popularnością wśród mobilnych graczy. Naszym zadaniem jest "zestrzelić" jabłko za pomocą dziwnych stworków (kosmitów?). Oczywiście jak na tego typu grę przystało pierwsze poziomy są banalnie proste, jednak "im dalej w las" tym jest ciężej. Już po paru rundach musimy zmierzyć się z licznymi przeszkodami takimi jak poruszanie się jabłka na platformie (co wymaga od nas przewidywania w którym momencie najlepiej wystrzelić z armaty) czy możliwość tylko jednego strzału (jabłko "zniknie" jeżeli będziemy zwlekać). Gra dzięki dobremu rozłożeniu poziomu trudności jest wciągająca, mimo iż ani graficznie, ani dźwiękowo nie zachwyca. Standardowo też nie możemy liczyć na polską wersję językową.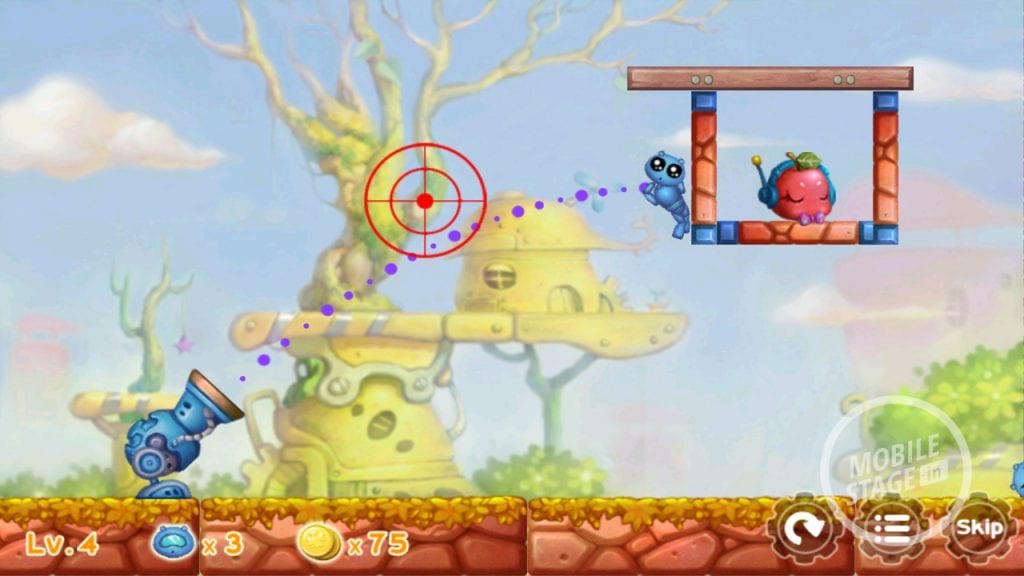 Shoot the Apple przygotowana przez zespół DroidHen jest miłym przerywnikiem dla osób, którym nie tylko zależy na rozwiązywaniu licznych zagadek logicznych, ale i również chcą potrenować swoją zręczność. Jeżeli jesteś jedną z takich osób – warto sprawdzić tę pozycję.
Węże i Jabłka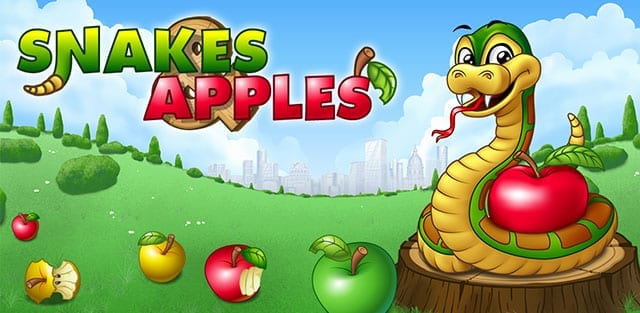 Kolejna gra logiczna w naszym zestawieniu. Tym razem o dziwo mamy do czynienia z pozycją spolszczoną. Naszym zadaniem jest tak poprowadzić węża po planszy, aby zebrał wszystkie jabłka, a przy okazji zajął wszystkie możliwe pola swoim ciałem. Musimy uważać jednak, aby ominąć szyszki i nie zjeść przypadkiem muchomora (oraz zważać również na inne przeszkody). Oczywiście to nie jedyne urozmaicenia jakie przygotowali autorzy i gry. Z czasem przyjdzie nam uruchamiać i dezaktywować zapadnie i rozwiązywać coraz bardziej skomplikowane zagadki. Pierwsze kilkanaście poziomów możemy uznać za proste. Później musimy wytężyć trochę bardziej umysł by stworzyć ścieżkę idealną. A wszystko po to by nakarmić jabłkami naszego węża. Autorzy przygotowali ogromną liczbę poziomów, które jednak przy odrobinie wysiłku przejdziemy dość szybko.
Gra może przypaść do gustu dzieciom. Kolorowa, a dokładniej pastelowa grafika jest przyjemna dla oka, zaś samego kręgowca można polubić. Pozycja jest bezpłatna, jedyną ceną jaką przyjdzie nam zapłacić za grę jest konieczność oglądania reklam. Myślę, że jest to niewiele, biorąc pod uwagę, że liczba poziomów spokojnie rekompensuje tę niedogodność.
Hit the Apple!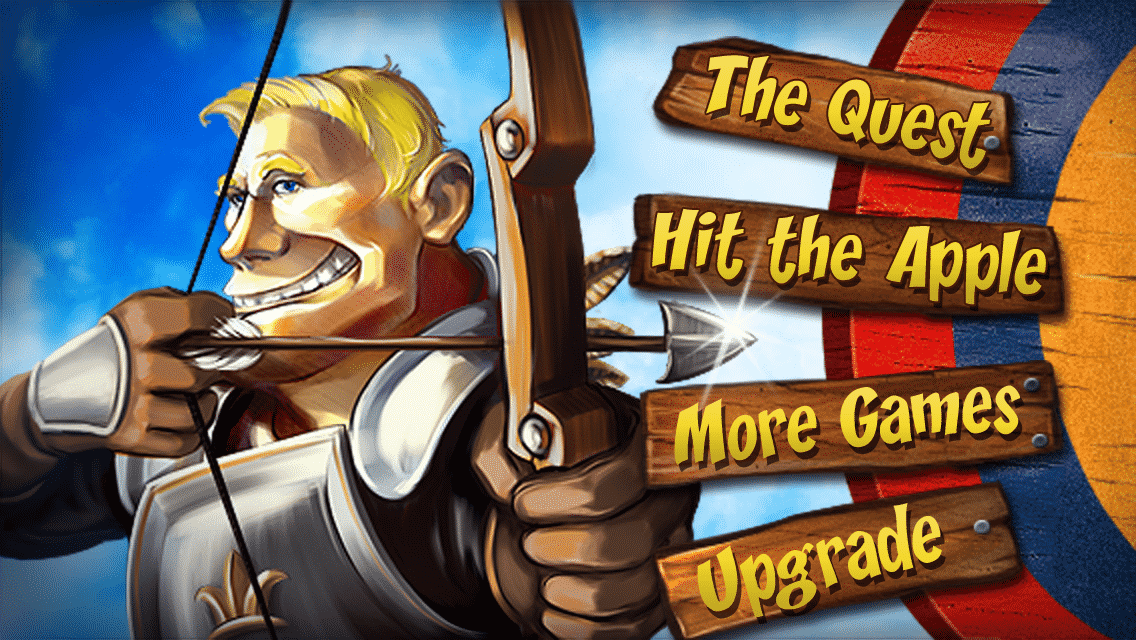 W przeglądzie gier o jabłkach nie mogło zabraknąć prawdziwych klasyków. Tym razem możemy przekonać się jak ciężkie zadanie miał Wilhelm Tell. Gra oferuje dwa tryby zabawy – zestrzel jabłko i kampanię. W pierwszym z nich musimy podobnie jak bohater legendy zestrzelić jabłko z głowy naszego towarzysza. Na szczęście nie jest to nasz syn. W drugim trybie mamy natomiast za zadanie pokonać przeciwnika strzelając prosto do niego. Nasz wróg, podobnie jak my ma ograniczony poziom zdrowia i zależnie od tego gdzie trafimy (najwięcej punktów życia odbieramy strzelając między oczy) zyskujemy nad nim przewagę. Po pokonaniu go przechodzimy do kolejnej rundy.
Poziomy w grze są coraz trudniejsze. Niestety nie jest to związane z pokonywaniem dodatkowych przeszkód. Autorzy uznali, że wystarczy fakt, że tylko raz (na początku gry) możemy ocenić odległość pomiędzy postaciami, a później już musimy radzić sobie sami odpowiednio celując. Każdy następny poziom powoduje, że oddalamy się od naszego celu przez co lepiej musimy oceniać jak mocno naprężyć łuk i jak szybko go wypuścić. Gra jest prosta i jak tylko nauczymy się jakie zasady fizyki w niej panują to każda kolejna runda nie powinna być dla nas problemem. Warto wspomnieć, że również w "bezkrwawym" trybie "zestrzel jabłko" również możemy ranić naszego współtowarzysza i jeżeli zamiast trafić w owoc, będziemy celować w postać to dość szybko zakończymy zabawę.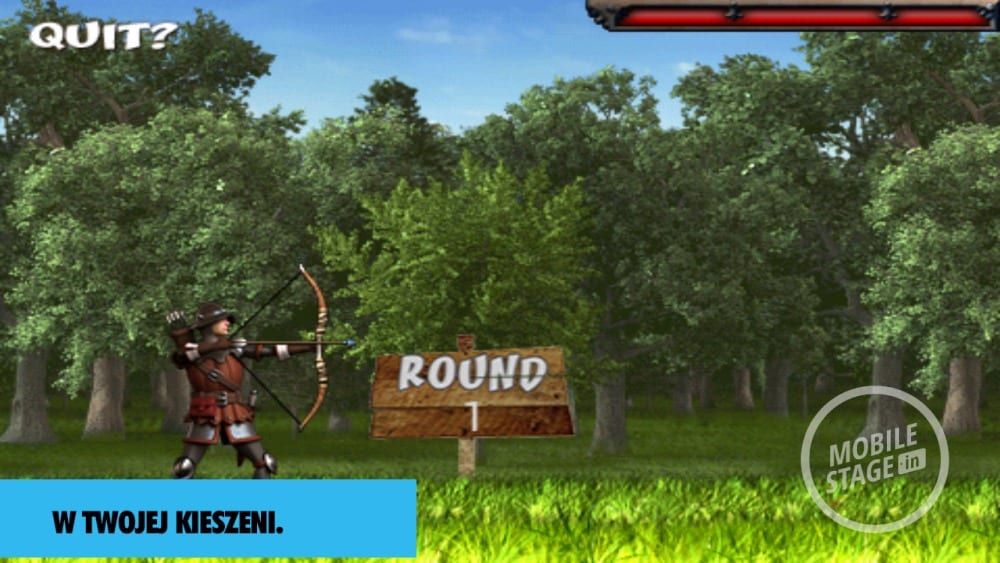 Grafika nie jest wysokich lotów, tła i postacie są rozmazane, co stanowi największy minus tej pozycji. Być może na mniejszych ekranach wygląda ona znacznie lepiej. Przyjemna jest natomiast oprawa dźwiękowa. Dostajemy to czego możemy się spodziewać po tego typu zabawie, czyli irlandzki folklor nawiązujący klimatem do Robin Hooda i średniowiecznej Anglii. Gra posiada angielską wersję językową, jednak nawet nie znając tego języka raczej bez problemu zrozumiemy o co w niej chodzi, a sama historia w kampanii została raczej przygotowana "na szybko" i możemy potraktować ją jako dodatek wrzucony na siłę.
Hit the Apple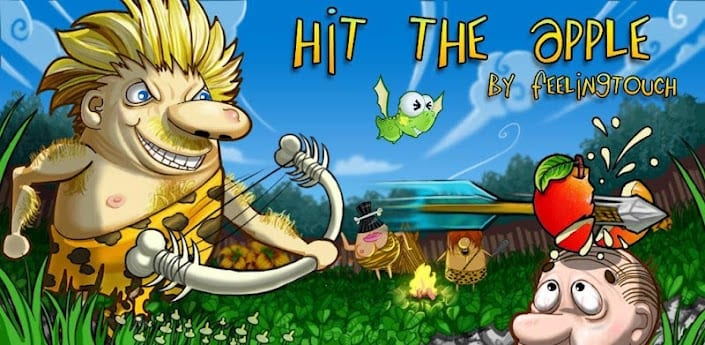 Mimo, iż tytuł tej pozycji jest prawie identyczny do poprzedniej recenzji to jednak nie jest to ta sama gra. W Hit the Apple naszym zadaniem jest przekuć strzałą jabłko, tak aby nie drasnąć nieszczęśnika, na którego głowie owy owoc leży. Jest to zadanie ciężkie, ponieważ na prawie 5-calowym ekranie było mi dosyć ciężko odpowiednio wymierzyć kąt strzału. Do minusów gry mogę też zaliczyć fakt, iż moc strzału jaki oddajemy napełnia się tylko raz. Tak więc jeżeli chcielibyśmy oddać słabszy, ale bardziej precyzyjny strzał musimy w ciągu sekundy wybrać odpowiedni kąt i puścić palec. Szkoda, że poziom mocy nie napełnia się od nowa, dzięki czemu moglibyśmy ustalić kąt, a dopiero potem zajmować się szybkością i siłą. Dodatkową rzeczą, która mnie irytowała była konieczność klikania na przycisk ponawiający próbę po każdym nieudanym strzale. Nie ukrywam, że takie rozwiązanie mocno mnie zaczęło irytować już po krótkiej zabawie. Każdy kolejny poziom naszej gry powoduje, że jesteśmy zmuszeni oddawać strzał z większej odległości.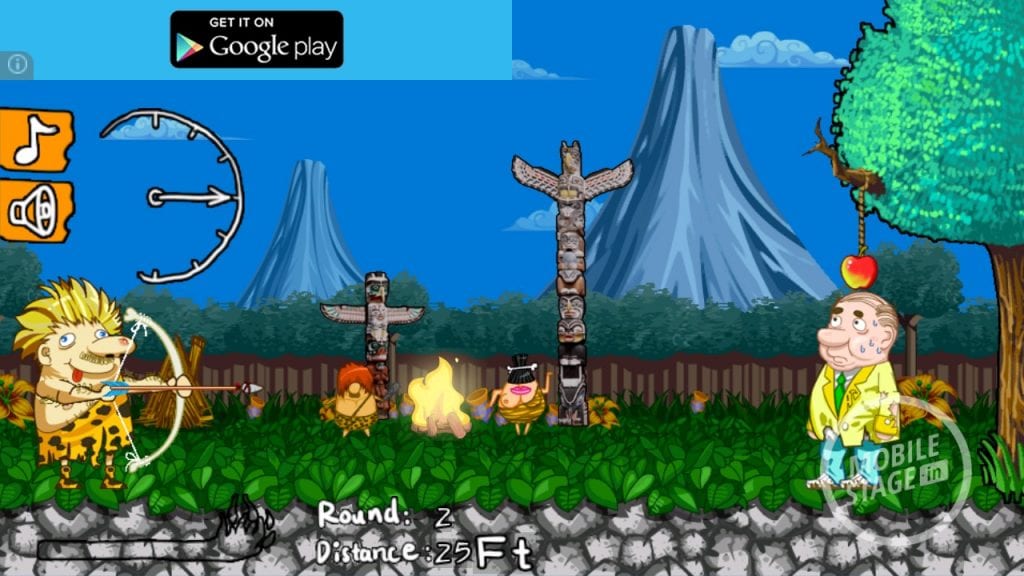 Oprawia wizualna gry może się podobać. Jest bardziej rysunkowa, a klimatem różni się od Hit the Apple! tym, że przenosimy się raczej w czasy bliżej nieokreślonych plemion, które urozmaicały sobie czas takimi o to zabawami. Muzyka natomiast ogranicza się do szybko wypadającej z głowy muzyki w tle i świstów strzały oraz odgłosów jęku jeżeli trafimy w nieszczęśnika z jabłkiem na głowie.
Gra zatem nie zachwyca, ale na pewno na nudę i szybką zabawę będzie jak znalazł.
Podsumowanie
To wszystko co przygotowaliśmy dla Was w tym zestawieniu. Zapraszamy do komentowania, a także do wysyłania propozycji jakie inne przeglądy gier i aplikacji chcielibyście zobaczyć na łamach Mobilestage.in w najbliższym czasie.
Fot.
smartwallies.com