Warning
: tempnam(): open_basedir restriction in effect. File(/tmp) is not within the allowed path(s): (/home/klient.dhosting.pl/mmkielce/mobilestage.in/:/home/klient.dhosting.pl/mmkielce/.tmp/:/demonek/www/public/bledy.demonek.com/:/usr/local/lsws/share/autoindex:/usr/local/php/:/dev/urandom:/opt/alt/php53/usr/share/pear/:/opt/alt/php54/usr/share/pear/:/opt/alt/php55/usr/share/pear/:/opt/alt/php56/usr/share/pear/:/opt/alt/php70/usr/share/pear/:/opt/alt/php71/usr/share/pear/:/opt/alt/php72/usr/share/pear/:/opt/alt/php73/usr/share/pear/:/opt/alt/php74/usr/share/pear/:/opt/alt/php80/usr/share/pear/:/opt/alt/php81/usr/share/pear/:/opt/alt/php53/usr/share/php:/opt/alt/php54/usr/share/php:/opt/alt/php55/usr/share/php:/opt/alt/php56/usr/share/php:/opt/alt/php70/usr/share/php:/opt/alt/php71/usr/share/php:/opt/alt/php72/usr/share/php:/opt/alt/php73/usr/share/php:/opt/alt/php74/usr/share/php:/opt/alt/php80/usr/share/php:/opt/alt/php81/usr/share/php:/opt/alt/php53/:/opt/alt/php54/:/opt/alt/php55/:/opt/alt/php56:/opt/alt/php70/:/ in
/home/klient.dhosting.pl/mmkielce/mobilestage.in/public_html/wp-content/plugins/wp-appbox/inc/getappinfo.class.php
on line
442
Warning
: tempnam(): open_basedir restriction in effect. File(/tmp) is not within the allowed path(s): (/home/klient.dhosting.pl/mmkielce/mobilestage.in/:/home/klient.dhosting.pl/mmkielce/.tmp/:/demonek/www/public/bledy.demonek.com/:/usr/local/lsws/share/autoindex:/usr/local/php/:/dev/urandom:/opt/alt/php53/usr/share/pear/:/opt/alt/php54/usr/share/pear/:/opt/alt/php55/usr/share/pear/:/opt/alt/php56/usr/share/pear/:/opt/alt/php70/usr/share/pear/:/opt/alt/php71/usr/share/pear/:/opt/alt/php72/usr/share/pear/:/opt/alt/php73/usr/share/pear/:/opt/alt/php74/usr/share/pear/:/opt/alt/php80/usr/share/pear/:/opt/alt/php81/usr/share/pear/:/opt/alt/php53/usr/share/php:/opt/alt/php54/usr/share/php:/opt/alt/php55/usr/share/php:/opt/alt/php56/usr/share/php:/opt/alt/php70/usr/share/php:/opt/alt/php71/usr/share/php:/opt/alt/php72/usr/share/php:/opt/alt/php73/usr/share/php:/opt/alt/php74/usr/share/php:/opt/alt/php80/usr/share/php:/opt/alt/php81/usr/share/php:/opt/alt/php53/:/opt/alt/php54/:/opt/alt/php55/:/opt/alt/php56:/opt/alt/php70/:/ in
/home/klient.dhosting.pl/mmkielce/mobilestage.in/public_html/wp-content/plugins/wp-appbox/inc/getappinfo.class.php
on line
442
Warning
: tempnam(): open_basedir restriction in effect. File(/tmp) is not within the allowed path(s): (/home/klient.dhosting.pl/mmkielce/mobilestage.in/:/home/klient.dhosting.pl/mmkielce/.tmp/:/demonek/www/public/bledy.demonek.com/:/usr/local/lsws/share/autoindex:/usr/local/php/:/dev/urandom:/opt/alt/php53/usr/share/pear/:/opt/alt/php54/usr/share/pear/:/opt/alt/php55/usr/share/pear/:/opt/alt/php56/usr/share/pear/:/opt/alt/php70/usr/share/pear/:/opt/alt/php71/usr/share/pear/:/opt/alt/php72/usr/share/pear/:/opt/alt/php73/usr/share/pear/:/opt/alt/php74/usr/share/pear/:/opt/alt/php80/usr/share/pear/:/opt/alt/php81/usr/share/pear/:/opt/alt/php53/usr/share/php:/opt/alt/php54/usr/share/php:/opt/alt/php55/usr/share/php:/opt/alt/php56/usr/share/php:/opt/alt/php70/usr/share/php:/opt/alt/php71/usr/share/php:/opt/alt/php72/usr/share/php:/opt/alt/php73/usr/share/php:/opt/alt/php74/usr/share/php:/opt/alt/php80/usr/share/php:/opt/alt/php81/usr/share/php:/opt/alt/php53/:/opt/alt/php54/:/opt/alt/php55/:/opt/alt/php56:/opt/alt/php70/:/ in
/home/klient.dhosting.pl/mmkielce/mobilestage.in/public_html/wp-content/plugins/wp-appbox/inc/getappinfo.class.php
on line
442
Warning
: tempnam(): open_basedir restriction in effect. File(/tmp) is not within the allowed path(s): (/home/klient.dhosting.pl/mmkielce/mobilestage.in/:/home/klient.dhosting.pl/mmkielce/.tmp/:/demonek/www/public/bledy.demonek.com/:/usr/local/lsws/share/autoindex:/usr/local/php/:/dev/urandom:/opt/alt/php53/usr/share/pear/:/opt/alt/php54/usr/share/pear/:/opt/alt/php55/usr/share/pear/:/opt/alt/php56/usr/share/pear/:/opt/alt/php70/usr/share/pear/:/opt/alt/php71/usr/share/pear/:/opt/alt/php72/usr/share/pear/:/opt/alt/php73/usr/share/pear/:/opt/alt/php74/usr/share/pear/:/opt/alt/php80/usr/share/pear/:/opt/alt/php81/usr/share/pear/:/opt/alt/php53/usr/share/php:/opt/alt/php54/usr/share/php:/opt/alt/php55/usr/share/php:/opt/alt/php56/usr/share/php:/opt/alt/php70/usr/share/php:/opt/alt/php71/usr/share/php:/opt/alt/php72/usr/share/php:/opt/alt/php73/usr/share/php:/opt/alt/php74/usr/share/php:/opt/alt/php80/usr/share/php:/opt/alt/php81/usr/share/php:/opt/alt/php53/:/opt/alt/php54/:/opt/alt/php55/:/opt/alt/php56:/opt/alt/php70/:/ in
/home/klient.dhosting.pl/mmkielce/mobilestage.in/public_html/wp-content/plugins/wp-appbox/inc/getappinfo.class.php
on line
442
Warning
: tempnam(): open_basedir restriction in effect. File(/tmp) is not within the allowed path(s): (/home/klient.dhosting.pl/mmkielce/mobilestage.in/:/home/klient.dhosting.pl/mmkielce/.tmp/:/demonek/www/public/bledy.demonek.com/:/usr/local/lsws/share/autoindex:/usr/local/php/:/dev/urandom:/opt/alt/php53/usr/share/pear/:/opt/alt/php54/usr/share/pear/:/opt/alt/php55/usr/share/pear/:/opt/alt/php56/usr/share/pear/:/opt/alt/php70/usr/share/pear/:/opt/alt/php71/usr/share/pear/:/opt/alt/php72/usr/share/pear/:/opt/alt/php73/usr/share/pear/:/opt/alt/php74/usr/share/pear/:/opt/alt/php80/usr/share/pear/:/opt/alt/php81/usr/share/pear/:/opt/alt/php53/usr/share/php:/opt/alt/php54/usr/share/php:/opt/alt/php55/usr/share/php:/opt/alt/php56/usr/share/php:/opt/alt/php70/usr/share/php:/opt/alt/php71/usr/share/php:/opt/alt/php72/usr/share/php:/opt/alt/php73/usr/share/php:/opt/alt/php74/usr/share/php:/opt/alt/php80/usr/share/php:/opt/alt/php81/usr/share/php:/opt/alt/php53/:/opt/alt/php54/:/opt/alt/php55/:/opt/alt/php56:/opt/alt/php70/:/ in
/home/klient.dhosting.pl/mmkielce/mobilestage.in/public_html/wp-content/plugins/wp-appbox/inc/getappinfo.class.php
on line
442
Warning
: tempnam(): open_basedir restriction in effect. File(/tmp) is not within the allowed path(s): (/home/klient.dhosting.pl/mmkielce/mobilestage.in/:/home/klient.dhosting.pl/mmkielce/.tmp/:/demonek/www/public/bledy.demonek.com/:/usr/local/lsws/share/autoindex:/usr/local/php/:/dev/urandom:/opt/alt/php53/usr/share/pear/:/opt/alt/php54/usr/share/pear/:/opt/alt/php55/usr/share/pear/:/opt/alt/php56/usr/share/pear/:/opt/alt/php70/usr/share/pear/:/opt/alt/php71/usr/share/pear/:/opt/alt/php72/usr/share/pear/:/opt/alt/php73/usr/share/pear/:/opt/alt/php74/usr/share/pear/:/opt/alt/php80/usr/share/pear/:/opt/alt/php81/usr/share/pear/:/opt/alt/php53/usr/share/php:/opt/alt/php54/usr/share/php:/opt/alt/php55/usr/share/php:/opt/alt/php56/usr/share/php:/opt/alt/php70/usr/share/php:/opt/alt/php71/usr/share/php:/opt/alt/php72/usr/share/php:/opt/alt/php73/usr/share/php:/opt/alt/php74/usr/share/php:/opt/alt/php80/usr/share/php:/opt/alt/php81/usr/share/php:/opt/alt/php53/:/opt/alt/php54/:/opt/alt/php55/:/opt/alt/php56:/opt/alt/php70/:/ in
/home/klient.dhosting.pl/mmkielce/mobilestage.in/public_html/wp-content/plugins/wp-appbox/inc/getappinfo.class.php
on line
442
Warning
: tempnam(): open_basedir restriction in effect. File(/tmp) is not within the allowed path(s): (/home/klient.dhosting.pl/mmkielce/mobilestage.in/:/home/klient.dhosting.pl/mmkielce/.tmp/:/demonek/www/public/bledy.demonek.com/:/usr/local/lsws/share/autoindex:/usr/local/php/:/dev/urandom:/opt/alt/php53/usr/share/pear/:/opt/alt/php54/usr/share/pear/:/opt/alt/php55/usr/share/pear/:/opt/alt/php56/usr/share/pear/:/opt/alt/php70/usr/share/pear/:/opt/alt/php71/usr/share/pear/:/opt/alt/php72/usr/share/pear/:/opt/alt/php73/usr/share/pear/:/opt/alt/php74/usr/share/pear/:/opt/alt/php80/usr/share/pear/:/opt/alt/php81/usr/share/pear/:/opt/alt/php53/usr/share/php:/opt/alt/php54/usr/share/php:/opt/alt/php55/usr/share/php:/opt/alt/php56/usr/share/php:/opt/alt/php70/usr/share/php:/opt/alt/php71/usr/share/php:/opt/alt/php72/usr/share/php:/opt/alt/php73/usr/share/php:/opt/alt/php74/usr/share/php:/opt/alt/php80/usr/share/php:/opt/alt/php81/usr/share/php:/opt/alt/php53/:/opt/alt/php54/:/opt/alt/php55/:/opt/alt/php56:/opt/alt/php70/:/ in
/home/klient.dhosting.pl/mmkielce/mobilestage.in/public_html/wp-content/plugins/wp-appbox/inc/getappinfo.class.php
on line
442
Warning
: tempnam(): open_basedir restriction in effect. File(/tmp) is not within the allowed path(s): (/home/klient.dhosting.pl/mmkielce/mobilestage.in/:/home/klient.dhosting.pl/mmkielce/.tmp/:/demonek/www/public/bledy.demonek.com/:/usr/local/lsws/share/autoindex:/usr/local/php/:/dev/urandom:/opt/alt/php53/usr/share/pear/:/opt/alt/php54/usr/share/pear/:/opt/alt/php55/usr/share/pear/:/opt/alt/php56/usr/share/pear/:/opt/alt/php70/usr/share/pear/:/opt/alt/php71/usr/share/pear/:/opt/alt/php72/usr/share/pear/:/opt/alt/php73/usr/share/pear/:/opt/alt/php74/usr/share/pear/:/opt/alt/php80/usr/share/pear/:/opt/alt/php81/usr/share/pear/:/opt/alt/php53/usr/share/php:/opt/alt/php54/usr/share/php:/opt/alt/php55/usr/share/php:/opt/alt/php56/usr/share/php:/opt/alt/php70/usr/share/php:/opt/alt/php71/usr/share/php:/opt/alt/php72/usr/share/php:/opt/alt/php73/usr/share/php:/opt/alt/php74/usr/share/php:/opt/alt/php80/usr/share/php:/opt/alt/php81/usr/share/php:/opt/alt/php53/:/opt/alt/php54/:/opt/alt/php55/:/opt/alt/php56:/opt/alt/php70/:/ in
/home/klient.dhosting.pl/mmkielce/mobilestage.in/public_html/wp-content/plugins/wp-appbox/inc/getappinfo.class.php
on line
442
Warning
: tempnam(): open_basedir restriction in effect. File(/tmp) is not within the allowed path(s): (/home/klient.dhosting.pl/mmkielce/mobilestage.in/:/home/klient.dhosting.pl/mmkielce/.tmp/:/demonek/www/public/bledy.demonek.com/:/usr/local/lsws/share/autoindex:/usr/local/php/:/dev/urandom:/opt/alt/php53/usr/share/pear/:/opt/alt/php54/usr/share/pear/:/opt/alt/php55/usr/share/pear/:/opt/alt/php56/usr/share/pear/:/opt/alt/php70/usr/share/pear/:/opt/alt/php71/usr/share/pear/:/opt/alt/php72/usr/share/pear/:/opt/alt/php73/usr/share/pear/:/opt/alt/php74/usr/share/pear/:/opt/alt/php80/usr/share/pear/:/opt/alt/php81/usr/share/pear/:/opt/alt/php53/usr/share/php:/opt/alt/php54/usr/share/php:/opt/alt/php55/usr/share/php:/opt/alt/php56/usr/share/php:/opt/alt/php70/usr/share/php:/opt/alt/php71/usr/share/php:/opt/alt/php72/usr/share/php:/opt/alt/php73/usr/share/php:/opt/alt/php74/usr/share/php:/opt/alt/php80/usr/share/php:/opt/alt/php81/usr/share/php:/opt/alt/php53/:/opt/alt/php54/:/opt/alt/php55/:/opt/alt/php56:/opt/alt/php70/:/ in
/home/klient.dhosting.pl/mmkielce/mobilestage.in/public_html/wp-content/plugins/wp-appbox/inc/getappinfo.class.php
on line
442
Warning
: tempnam(): open_basedir restriction in effect. File(/tmp) is not within the allowed path(s): (/home/klient.dhosting.pl/mmkielce/mobilestage.in/:/home/klient.dhosting.pl/mmkielce/.tmp/:/demonek/www/public/bledy.demonek.com/:/usr/local/lsws/share/autoindex:/usr/local/php/:/dev/urandom:/opt/alt/php53/usr/share/pear/:/opt/alt/php54/usr/share/pear/:/opt/alt/php55/usr/share/pear/:/opt/alt/php56/usr/share/pear/:/opt/alt/php70/usr/share/pear/:/opt/alt/php71/usr/share/pear/:/opt/alt/php72/usr/share/pear/:/opt/alt/php73/usr/share/pear/:/opt/alt/php74/usr/share/pear/:/opt/alt/php80/usr/share/pear/:/opt/alt/php81/usr/share/pear/:/opt/alt/php53/usr/share/php:/opt/alt/php54/usr/share/php:/opt/alt/php55/usr/share/php:/opt/alt/php56/usr/share/php:/opt/alt/php70/usr/share/php:/opt/alt/php71/usr/share/php:/opt/alt/php72/usr/share/php:/opt/alt/php73/usr/share/php:/opt/alt/php74/usr/share/php:/opt/alt/php80/usr/share/php:/opt/alt/php81/usr/share/php:/opt/alt/php53/:/opt/alt/php54/:/opt/alt/php55/:/opt/alt/php56:/opt/alt/php70/:/ in
/home/klient.dhosting.pl/mmkielce/mobilestage.in/public_html/wp-content/plugins/wp-appbox/inc/getappinfo.class.php
on line
442
Drukujemy coraz mniej. Technologia umożliwia nam przenoszenie stert dokumentów w pojedynczym, lekkim i niezawodnym urządzeniu. Przyzwyczailiśmy się do tej wygody i już nigdy z niej nie zrezygnujemy. Co prawda, tablety i smartfony nie wyparły jeszcze tradycyjnych dokumentów, ale powoli zmierzamy w tym kierunku. Nadzieję pokładam zwłaszcza w ekranach e-link, które są prawie idealnym substytutem tradycyjnych kartek.
Z drugiej strony, coraz bardziej doceniamy trwałość tej tradycyjnej kartki. Zwłaszcza, kiedy chodzi o nasze wspomnienia czy ważne dokumenty. Również firmy, pomimo wprowadzania nowych technologii nie mogą całkowicie zrezygnować z tradycyjnego papieru. Zmienia się tylko sposób drukowania. Już nie potrzebujemy do tego komputera, dużo prościej i szybciej możemy zrobić to przy pomocy smartfona. Nie musimy być nawet w okolicy drukarki, teraz bez problemy wydrukujemy dokument nawet z drugiego końca świata.
Producenci drukarek już dawno zauważyli ten trend, dlatego do swoich urządzeń dołączają bezpłatne aplikacje umożliwiające drukowanie przy pomocy telefonu przez sieć WiFi, Bluetooth czy nawet szybką komunikację NFC. Problem pojawia się, kiedy chcemy wydrukować coś na drukarce innej marki albo, kiedy posiadamy urządzenie starszej daty, które takiego oprogramowania nie dostało. Szukamy wtedy aplikacji uniwersalnej, która pozwoli nam drukować z każdej dostępnej dla nas drukarki. W sklepach z aplikacjami znajdziemy całkiem sporo gotowych rozwiązań, które mogą spełnić nasze oczekiwania. Niżej przedstawię kilka z nich i opiszę tylko darmowe możliwości wybranych programów, bo "po co przepłacać"? W zestawieniu nie ma żadnej aplikacji dla WindowsPhone, bo w sklepie z aplikacjami znalazłem tylko te stworzone przez producentów drukarek, które potrafiły obsługiwać tylko ich sprzęt, albo aplikacje z bardzo okrojonymi możliwościami, takie jak PrintNow. Przy jej pomocy możemy drukować tylko zdjęcia i dokumenty z usługi Google Cloud Print.
AirPrint – to jak łatwo się domyślić usługa oferowana przez Apple. Wbudowana jest w większość nowych modeli drukarek popularnych producentów. Dzięki niej możemy drukować z naszego Maca, iPhona, iPoda touch czy iPada praktycznie dowolne treści w bardzo prosty sposób. Wystarczy, że drukarka podłączona jest do tej same sieci WiFi, albo łączy się z komputerem Mac przy pomocy odpowiedniego kabla. Przechodzimy po prostu do aplikacji, z której chcemy drukować i udostępniamy zawartą w niej treść opcji drukowania. Jeżeli takiej opcji nie widzimy możemy przejść do ustawień i tam jej poszukać. Jeżeli i tam jej nie będzie, prawdopodobnie ta aplikacja nie obsługuje usługi AirPrint. Choć jest to rozwiązanie interesujące to niestety konieczność posiadania urządzeń Apple znacząco je ogranicza.
Google Cloud Print – pozwala podłączyć dowolną drukarkę do sieci, dzięki czemu będziemy mogli drukować na niej treści z dowolnego urządzenia z dostępem do internetu. Aby dodać nową drukarkę, wystarczy, że w przeglądarce Chrome wpiszemy "chrome://devices", a następnie będziemy postępować według komunikatów na ekranie. Jeżeli nasze urządzenie drukujące było już zainstalowane na komputerze, Chrome automatycznie je wykryje, a nam zostanie tylko to zaakceptować. Od teraz możemy bez przeszkód drukować: z aplikacji Google (Gmail, Dokumenty), odpowiednio oznakowane strony internetowe, a także z innych programów służących do mobilnego drukowania, które opisuję poniżej. Możemy również udostępnić naszą drukarkę przy pomocy linku znajomym lub współpracownikom. Od teraz nie muszą być podłączeni do tej samej sieci Wi-Fi, ani instalować specjalnych sterowników.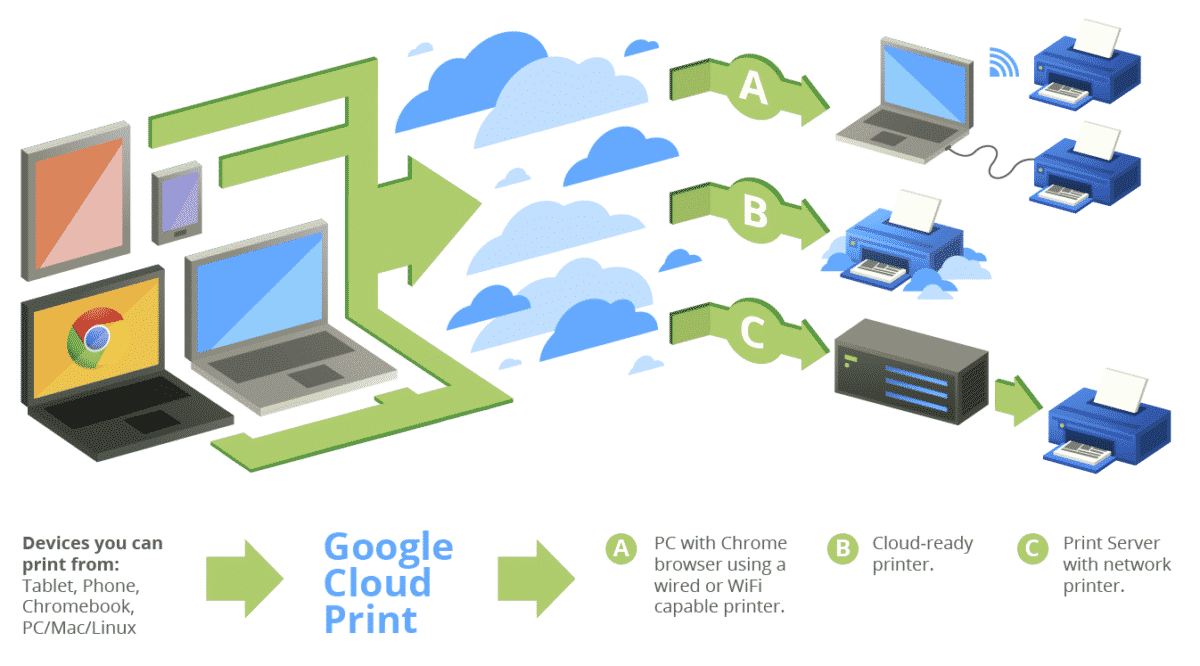 ThinkFree Print – to aplikacja dostępna na system Android, która umożliwia drukowanie Dokumentów Google, wielu skrzynek mailowych (Gmail, Outlook, Yahoo), zdjęć, kontaktów, terminarza, SMS-ów, rejestru połączeń oraz stron internetowych. Obsługuje prawie 8 000 najpopularniejszych modeli drukarek. Do połączenia się z drukarką wykorzystuje sieć Wi-Fi, kabel lub Bluetooth. Nie pozwala niestety udostępniać drukarek w sieci. Jej możliwości są całkiem spore, ale niestety, za darmo otrzymujemy tylko 7-dni nieskrępowanego niczym drukowania, aby móc dalej z niej korzystać będziemy musieli zapłacić 10zł za wersję premium.
PrintBot – to prosta i bardzo popularna aplikacja dostępna na system Android, która pozwala na drukowanie za pośrednictwem sieci Wi-Fi. Aby z niej skorzystać wystarczy wybrać zdjęcie albo dokument PDF, a następnie wysłać/udostępnić go aplikacji PrintBot. Program potrafi drukować też strony HTLM, ale tylko te statyczne, czyli nieprzystosowujące się do ekranu naszego urządzenia. Jest ich coraz mniej, więc opcja ta staje się praktycznie bezużyteczna. PrintBot posiada sterowniki do ponad 3 800 drukarek największych producentów (Epson, Lexmark, Brother, Samsung, HP, Canon). Aplikacja w wersji darmowej pozwala na drukowanie tylko trzech zdjęć lub dokumentów miesięcznie. Wersja premium, zdejmująca wszystkie ograniczenia, kosztuje 12,99zł.
PrinterShare druk – dostępna na Android i iOS, pozwala drukować szeroki wachlarz formatów dokumentowych (m.in. DOC, DOCX, XLS, XLSX, PPT, PPTX, PDF), Dokumentów Google, Gmaila, zdjęć, kontaktów, terminarza, smsów oraz rejestru połączeń. Niestety, podobnie jak w większości wirtualnych drukarek w tym zestawieniu, większość jej opcji dostępna jest po wykupieniu premium. Aplikacja w bezpłatnej wersji wspiera Google Cloud Print. Aby skorzystać z tej opcji wystarczy mieć zainstalowaną najnowszą wersję przeglądarki Chrome na komputerze. Aby móc korzystać z wszystkich możliwości aplikacji będziemy musieli zapłacić 44,95zł, co jest absolutnym rekordem w tym porównaniu.
Happy2Print – jako jedyna w zestawieniu jest całkowicie bezpłatna i chyba najbardziej intuicyjna. Oferuje możliwość drukowania prawie wszystkiego, od plików Microsoft Office, obrazów, e-maili oraz ich załączników przez strony internetowe, kalendarzy, rejestrów połączeń, wiadomości tekstowych a kończąc na albumach z Facebooka. Nie wspomniałem o możliwości drukowania z serwisów takich jak Dysk Google, Dropbox, Box, SugarSync, Skydrive a także aplikacji firmowych, do czego służy opcja Share. Drukować można przy pomocy drukarek udostępnionych na praktycznie wszystkie możliwe sposoby – w grupach roboczych, domenach, usłudze Active Dirctory i Chmurze Google. Możemy również udostępnić drukarki z naszego komputera przy pomocy programu PrintHand (http://www.printhand.com/shared_printers.php), a następnie drukować przez Happy2Print. Jest to zatem najciekawsza opcja dla osób, które szukają prostego, ale najbardziej wszechstronnego rozwiązania i to za darmo.
Drukowanie stało się proste jak nigdy przedtem. Możemy zapomnieć o mozolnym instalowaniu sterowników na każdym stanowisku, czy ciągłym przerzucaniu plików z urządzenia do komputera. Wystarczy, że wybierzemy odpowiadającą nam aplikację i skonfigurujemy na niej naszą drukarkę. Droga staje się o połowę krótsza, a my zyskujemy ogromną ilość czasu.