Warning
: Undefined array key "windowsphone" in
/home/klient.dhosting.pl/mmkielce/mobilestage.in/public_html/wp-content/plugins/wp-appbox/inc/createattributs.class.php
on line
90
Warning
: tempnam(): open_basedir restriction in effect. File(/tmp) is not within the allowed path(s): (/home/klient.dhosting.pl/mmkielce/mobilestage.in/:/home/klient.dhosting.pl/mmkielce/.tmp/:/demonek/www/public/bledy.demonek.com/:/usr/local/lsws/share/autoindex:/usr/local/php/:/dev/urandom:/opt/alt/php81/usr/share/pear/:/opt/alt/php81/usr/share/php:/opt/alt/php81/) in
/home/klient.dhosting.pl/mmkielce/mobilestage.in/public_html/wp-content/plugins/wp-appbox/inc/getappinfo.class.php
on line
442
Warning
: tempnam(): open_basedir restriction in effect. File(/tmp) is not within the allowed path(s): (/home/klient.dhosting.pl/mmkielce/mobilestage.in/:/home/klient.dhosting.pl/mmkielce/.tmp/:/demonek/www/public/bledy.demonek.com/:/usr/local/lsws/share/autoindex:/usr/local/php/:/dev/urandom:/opt/alt/php81/usr/share/pear/:/opt/alt/php81/usr/share/php:/opt/alt/php81/) in
/home/klient.dhosting.pl/mmkielce/mobilestage.in/public_html/wp-content/plugins/wp-appbox/inc/getappinfo.class.php
on line
442
Warning
: Undefined array key "windowsphone" in
/home/klient.dhosting.pl/mmkielce/mobilestage.in/public_html/wp-content/plugins/wp-appbox/inc/getappinfo.class.php
on line
362
Warning
: Trying to access array offset on value of type null in
/home/klient.dhosting.pl/mmkielce/mobilestage.in/public_html/wp-content/plugins/wp-appbox/inc/getappinfo.class.php
on line
362
Warning
: Undefined array key "windowsphone" in
/home/klient.dhosting.pl/mmkielce/mobilestage.in/public_html/wp-content/plugins/wp-appbox/inc/createattributs.class.php
on line
90
Warning
: tempnam(): open_basedir restriction in effect. File(/tmp) is not within the allowed path(s): (/home/klient.dhosting.pl/mmkielce/mobilestage.in/:/home/klient.dhosting.pl/mmkielce/.tmp/:/demonek/www/public/bledy.demonek.com/:/usr/local/lsws/share/autoindex:/usr/local/php/:/dev/urandom:/opt/alt/php81/usr/share/pear/:/opt/alt/php81/usr/share/php:/opt/alt/php81/) in
/home/klient.dhosting.pl/mmkielce/mobilestage.in/public_html/wp-content/plugins/wp-appbox/inc/getappinfo.class.php
on line
442
Warning
: tempnam(): open_basedir restriction in effect. File(/tmp) is not within the allowed path(s): (/home/klient.dhosting.pl/mmkielce/mobilestage.in/:/home/klient.dhosting.pl/mmkielce/.tmp/:/demonek/www/public/bledy.demonek.com/:/usr/local/lsws/share/autoindex:/usr/local/php/:/dev/urandom:/opt/alt/php81/usr/share/pear/:/opt/alt/php81/usr/share/php:/opt/alt/php81/) in
/home/klient.dhosting.pl/mmkielce/mobilestage.in/public_html/wp-content/plugins/wp-appbox/inc/getappinfo.class.php
on line
442
Warning
: Undefined array key "windowsphone" in
/home/klient.dhosting.pl/mmkielce/mobilestage.in/public_html/wp-content/plugins/wp-appbox/inc/getappinfo.class.php
on line
362
Warning
: Trying to access array offset on value of type null in
/home/klient.dhosting.pl/mmkielce/mobilestage.in/public_html/wp-content/plugins/wp-appbox/inc/getappinfo.class.php
on line
362
Warning
: Undefined array key "windowsphone" in
/home/klient.dhosting.pl/mmkielce/mobilestage.in/public_html/wp-content/plugins/wp-appbox/inc/createattributs.class.php
on line
90
Warning
: tempnam(): open_basedir restriction in effect. File(/tmp) is not within the allowed path(s): (/home/klient.dhosting.pl/mmkielce/mobilestage.in/:/home/klient.dhosting.pl/mmkielce/.tmp/:/demonek/www/public/bledy.demonek.com/:/usr/local/lsws/share/autoindex:/usr/local/php/:/dev/urandom:/opt/alt/php81/usr/share/pear/:/opt/alt/php81/usr/share/php:/opt/alt/php81/) in
/home/klient.dhosting.pl/mmkielce/mobilestage.in/public_html/wp-content/plugins/wp-appbox/inc/getappinfo.class.php
on line
442
Warning
: tempnam(): open_basedir restriction in effect. File(/tmp) is not within the allowed path(s): (/home/klient.dhosting.pl/mmkielce/mobilestage.in/:/home/klient.dhosting.pl/mmkielce/.tmp/:/demonek/www/public/bledy.demonek.com/:/usr/local/lsws/share/autoindex:/usr/local/php/:/dev/urandom:/opt/alt/php81/usr/share/pear/:/opt/alt/php81/usr/share/php:/opt/alt/php81/) in
/home/klient.dhosting.pl/mmkielce/mobilestage.in/public_html/wp-content/plugins/wp-appbox/inc/getappinfo.class.php
on line
442
Warning
: Undefined array key "windowsphone" in
/home/klient.dhosting.pl/mmkielce/mobilestage.in/public_html/wp-content/plugins/wp-appbox/inc/getappinfo.class.php
on line
362
Warning
: Trying to access array offset on value of type null in
/home/klient.dhosting.pl/mmkielce/mobilestage.in/public_html/wp-content/plugins/wp-appbox/inc/getappinfo.class.php
on line
362
Warning
: Undefined array key "windowsphone" in
/home/klient.dhosting.pl/mmkielce/mobilestage.in/public_html/wp-content/plugins/wp-appbox/inc/createattributs.class.php
on line
90
Warning
: tempnam(): open_basedir restriction in effect. File(/tmp) is not within the allowed path(s): (/home/klient.dhosting.pl/mmkielce/mobilestage.in/:/home/klient.dhosting.pl/mmkielce/.tmp/:/demonek/www/public/bledy.demonek.com/:/usr/local/lsws/share/autoindex:/usr/local/php/:/dev/urandom:/opt/alt/php81/usr/share/pear/:/opt/alt/php81/usr/share/php:/opt/alt/php81/) in
/home/klient.dhosting.pl/mmkielce/mobilestage.in/public_html/wp-content/plugins/wp-appbox/inc/getappinfo.class.php
on line
442
Warning
: tempnam(): open_basedir restriction in effect. File(/tmp) is not within the allowed path(s): (/home/klient.dhosting.pl/mmkielce/mobilestage.in/:/home/klient.dhosting.pl/mmkielce/.tmp/:/demonek/www/public/bledy.demonek.com/:/usr/local/lsws/share/autoindex:/usr/local/php/:/dev/urandom:/opt/alt/php81/usr/share/pear/:/opt/alt/php81/usr/share/php:/opt/alt/php81/) in
/home/klient.dhosting.pl/mmkielce/mobilestage.in/public_html/wp-content/plugins/wp-appbox/inc/getappinfo.class.php
on line
442
Warning
: Undefined array key "windowsphone" in
/home/klient.dhosting.pl/mmkielce/mobilestage.in/public_html/wp-content/plugins/wp-appbox/inc/getappinfo.class.php
on line
362
Warning
: Trying to access array offset on value of type null in
/home/klient.dhosting.pl/mmkielce/mobilestage.in/public_html/wp-content/plugins/wp-appbox/inc/getappinfo.class.php
on line
362
Warning
: Undefined array key "windowsphone" in
/home/klient.dhosting.pl/mmkielce/mobilestage.in/public_html/wp-content/plugins/wp-appbox/inc/createattributs.class.php
on line
90
Warning
: tempnam(): open_basedir restriction in effect. File(/tmp) is not within the allowed path(s): (/home/klient.dhosting.pl/mmkielce/mobilestage.in/:/home/klient.dhosting.pl/mmkielce/.tmp/:/demonek/www/public/bledy.demonek.com/:/usr/local/lsws/share/autoindex:/usr/local/php/:/dev/urandom:/opt/alt/php81/usr/share/pear/:/opt/alt/php81/usr/share/php:/opt/alt/php81/) in
/home/klient.dhosting.pl/mmkielce/mobilestage.in/public_html/wp-content/plugins/wp-appbox/inc/getappinfo.class.php
on line
442
Warning
: tempnam(): open_basedir restriction in effect. File(/tmp) is not within the allowed path(s): (/home/klient.dhosting.pl/mmkielce/mobilestage.in/:/home/klient.dhosting.pl/mmkielce/.tmp/:/demonek/www/public/bledy.demonek.com/:/usr/local/lsws/share/autoindex:/usr/local/php/:/dev/urandom:/opt/alt/php81/usr/share/pear/:/opt/alt/php81/usr/share/php:/opt/alt/php81/) in
/home/klient.dhosting.pl/mmkielce/mobilestage.in/public_html/wp-content/plugins/wp-appbox/inc/getappinfo.class.php
on line
442
Warning
: Undefined array key "windowsphone" in
/home/klient.dhosting.pl/mmkielce/mobilestage.in/public_html/wp-content/plugins/wp-appbox/inc/getappinfo.class.php
on line
362
Warning
: Trying to access array offset on value of type null in
/home/klient.dhosting.pl/mmkielce/mobilestage.in/public_html/wp-content/plugins/wp-appbox/inc/getappinfo.class.php
on line
362
Dzisiaj chcielibyśmy przedstawić Wam ranking najlepszych gier Xbox przeznaczonych dla Nokii/Microsoft Lumii. W zasadzie to nie my, ale oficjalny blog Microsoftu, dawniej znany jako Nokia conversations. Jako kryterium wyróżnienia gier, firma przyjęła ilość opinii, a także wysokość ocen (dane prawdopodobnie wzięte z angielskiego sklepu). Przypominamy, że do pobrania gier Xbox konieczne jest założenie konta na tej platformie! Serdecznie zapraszamy do zapoznania się z pozycjami, które przygotował dla Was gigant z Redmond. Może odnajdziecie swoją wymarzoną grę? :)
Tetris Blitz
Miejsce pierwsze – (44 tysiące opinii).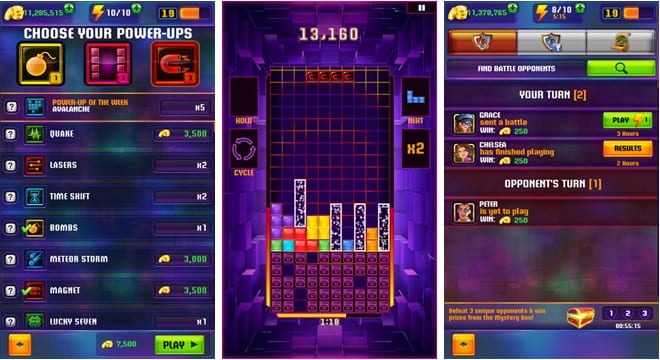 Tetris jaki jest każdy widzi, ale Tetris Blitz to nie tylko zwykłe układnie klocków! Zachowanie grywalności dobrze znanej " arkadówki" w połączeniu z power-upami (wspomagaczami takimi jak bomby, trzęsienie ziemi czy lasery) daje nam całkiem fajną gierkę, która idealnie sprawdzi się w poczekalni do lekarza czy w środkach komunikacji.
Gra jest darmowa, jednakże zawiera w sobie mikropłatności ułatwiające rozgrywkę.
Temple Run 2

Miejsce drugie (35 tysięcy opinii)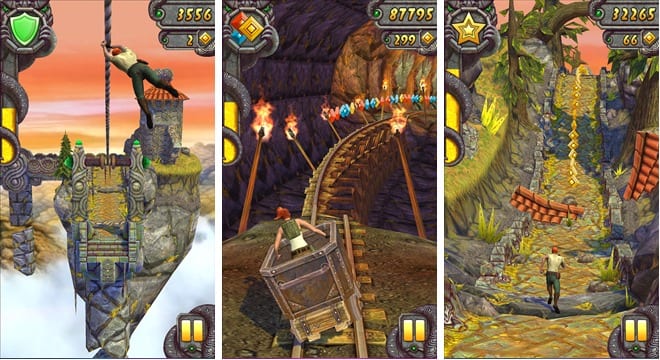 Na drugiej pozycji uplasował się chyba największy konkurent dla Subway Surfers – Temple Run 2. Zręcznościówka, w której musimy wykazać się refleksem, przesuwając w odpowiednim momencie palcem po ekranie by ominąć przeszkodę lub przechylaniem telefonu w jedną bądź w drugą stronę, co z kolei umożliwi nam zebranie dodatkowych punktów. Na uwagę zasługuję dobra grafika oraz dynamicznie zmieniający się krajobraz. W grze istnieje również sklep, w którym możemy zakupić przydatne w naszej "ucieczce" rzeczy. Gra będąca "never-ending running game" sprawi, że szybko się możemy od niej uzależnimy ;).
Wordament
Miejsce trzecie (31 tysięcy opinii)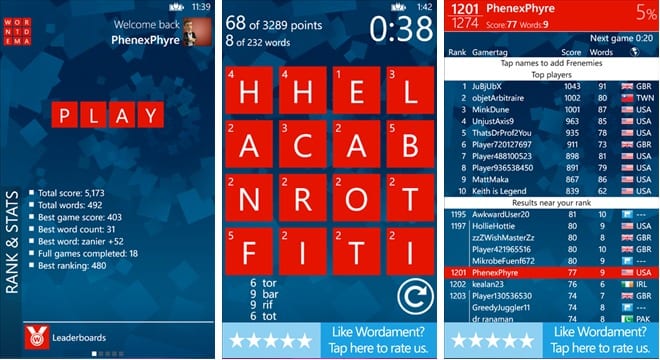 Po co grać z jednym przeciwnikiem na raz, skoro można zagrać z tysiącami? Brzmi zachęcająco? Jeżeli tak to Wordament jest grą wprost stworzoną dla Was!. Wordament to turniej słowny, który rozgrywamy w czasie rzeczywistym. Gracze, rywalizując jednocześnie ze sobą na tej samej planszy, muszą ułożyć tyle słów ile jest to możliwe z 18 dostępnych liter. Oczywiście im więcej słów Wam się uda wymyślić, tym szybciej pniecie się w rankingu. Gra zasługuje na szczególne uznanie, gdyż wraz z najnowszą aktualizacją otrzymała wsparcie techniczne w języku polskim.
Six Guns

Miejsce czwarte (26 tysięcy opinii)
Siodłaj konia i ruszaj na Dziki Zachód! Czy od zawsze marzyła Wam się kariera kowboja – rewolwerowca, który walczy z wszechobecnymi złoczyńcami? Cóż, jeżeli choć trochę, to koniecznie musicie zagrać w Six Guns. Gra oferuję około 40 misji, takich jak: konne pościgi czy strzelaniny z rabusiami lub… umarlakami. Do dyspozycji autorzy oddają nam 19 różnych broni, które z pewnością pomogą nam utrzymać porządek na ziemiach Arizony i Oregonu.
UNO & Friends

Miejsce piąte (25 tysięcy opinii)

Uno -to gra karciana, która w Polsce nie jest jeszcze bardzo popularna, ale szybko zdobywa uznanie na towarzyskich imprezach. Jest prosta, szybka i nie zna granic wiekowych. Zaczynamy z 7 kartami i jedną na środku stołu. Gracz musi dopasować swoją kartę kolorem lub numerem do odkrytej karty. Jeżeli takiej nie posiada musi pociągnąć jedną z talii. Kto zostaje zwycięzcą? Oczywiście ten komu nic nie zostało w wirtualnej ręce :). W UNO & Firends możemy zagrać z rodziną, znajomymi i tysiącami fanów z całego świata, a to oczywiście dzięki możliwości gry on-line.
To już koniec top 5 gier Xbox od Microsoftu. I jak? Znaleźliście coś dla siebie? A może macie jakieś swoje ulubione gry Xbox na Lumię? Śmiało podzielcie się nimi z nami w komentarzu :).
Źródło:
lumiaconversations.microsoft.com