Warning
: tempnam(): open_basedir restriction in effect. File(/tmp) is not within the allowed path(s): (/home/klient.dhosting.pl/mmkielce/mobilestage.in/:/home/klient.dhosting.pl/mmkielce/.tmp/:/demonek/www/public/bledy.demonek.com/:/usr/local/lsws/share/autoindex:/usr/local/php/:/dev/urandom) in
/home/klient.dhosting.pl/mmkielce/mobilestage.in/public_html/wp-content/plugins/wp-appbox/inc/getappinfo.class.php
on line
433
Warning
: unlink(): open_basedir restriction in effect. File() is not within the allowed path(s): (/home/klient.dhosting.pl/mmkielce/mobilestage.in/:/home/klient.dhosting.pl/mmkielce/.tmp/:/demonek/www/public/bledy.demonek.com/:/usr/local/lsws/share/autoindex:/usr/local/php/:/dev/urandom) in
/home/klient.dhosting.pl/mmkielce/mobilestage.in/public_html/wp-content/plugins/wp-appbox/inc/getappinfo.class.php
on line
459
Warning
: tempnam(): open_basedir restriction in effect. File(/tmp) is not within the allowed path(s): (/home/klient.dhosting.pl/mmkielce/mobilestage.in/:/home/klient.dhosting.pl/mmkielce/.tmp/:/demonek/www/public/bledy.demonek.com/:/usr/local/lsws/share/autoindex:/usr/local/php/:/dev/urandom) in
/home/klient.dhosting.pl/mmkielce/mobilestage.in/public_html/wp-content/plugins/wp-appbox/inc/getappinfo.class.php
on line
433
Warning
: unlink(): open_basedir restriction in effect. File() is not within the allowed path(s): (/home/klient.dhosting.pl/mmkielce/mobilestage.in/:/home/klient.dhosting.pl/mmkielce/.tmp/:/demonek/www/public/bledy.demonek.com/:/usr/local/lsws/share/autoindex:/usr/local/php/:/dev/urandom) in
/home/klient.dhosting.pl/mmkielce/mobilestage.in/public_html/wp-content/plugins/wp-appbox/inc/getappinfo.class.php
on line
459
Warning
: tempnam(): open_basedir restriction in effect. File(/tmp) is not within the allowed path(s): (/home/klient.dhosting.pl/mmkielce/mobilestage.in/:/home/klient.dhosting.pl/mmkielce/.tmp/:/demonek/www/public/bledy.demonek.com/:/usr/local/lsws/share/autoindex:/usr/local/php/:/dev/urandom) in
/home/klient.dhosting.pl/mmkielce/mobilestage.in/public_html/wp-content/plugins/wp-appbox/inc/getappinfo.class.php
on line
433
Warning
: unlink(): open_basedir restriction in effect. File() is not within the allowed path(s): (/home/klient.dhosting.pl/mmkielce/mobilestage.in/:/home/klient.dhosting.pl/mmkielce/.tmp/:/demonek/www/public/bledy.demonek.com/:/usr/local/lsws/share/autoindex:/usr/local/php/:/dev/urandom) in
/home/klient.dhosting.pl/mmkielce/mobilestage.in/public_html/wp-content/plugins/wp-appbox/inc/getappinfo.class.php
on line
459
Warning
: tempnam(): open_basedir restriction in effect. File(/tmp) is not within the allowed path(s): (/home/klient.dhosting.pl/mmkielce/mobilestage.in/:/home/klient.dhosting.pl/mmkielce/.tmp/:/demonek/www/public/bledy.demonek.com/:/usr/local/lsws/share/autoindex:/usr/local/php/:/dev/urandom) in
/home/klient.dhosting.pl/mmkielce/mobilestage.in/public_html/wp-content/plugins/wp-appbox/inc/getappinfo.class.php
on line
433
Warning
: unlink(): open_basedir restriction in effect. File() is not within the allowed path(s): (/home/klient.dhosting.pl/mmkielce/mobilestage.in/:/home/klient.dhosting.pl/mmkielce/.tmp/:/demonek/www/public/bledy.demonek.com/:/usr/local/lsws/share/autoindex:/usr/local/php/:/dev/urandom) in
/home/klient.dhosting.pl/mmkielce/mobilestage.in/public_html/wp-content/plugins/wp-appbox/inc/getappinfo.class.php
on line
459
Warning
: tempnam(): open_basedir restriction in effect. File(/tmp) is not within the allowed path(s): (/home/klient.dhosting.pl/mmkielce/mobilestage.in/:/home/klient.dhosting.pl/mmkielce/.tmp/:/demonek/www/public/bledy.demonek.com/:/usr/local/lsws/share/autoindex:/usr/local/php/:/dev/urandom) in
/home/klient.dhosting.pl/mmkielce/mobilestage.in/public_html/wp-content/plugins/wp-appbox/inc/getappinfo.class.php
on line
433
Warning
: unlink(): open_basedir restriction in effect. File() is not within the allowed path(s): (/home/klient.dhosting.pl/mmkielce/mobilestage.in/:/home/klient.dhosting.pl/mmkielce/.tmp/:/demonek/www/public/bledy.demonek.com/:/usr/local/lsws/share/autoindex:/usr/local/php/:/dev/urandom) in
/home/klient.dhosting.pl/mmkielce/mobilestage.in/public_html/wp-content/plugins/wp-appbox/inc/getappinfo.class.php
on line
459
Warning
: tempnam(): open_basedir restriction in effect. File(/tmp) is not within the allowed path(s): (/home/klient.dhosting.pl/mmkielce/mobilestage.in/:/home/klient.dhosting.pl/mmkielce/.tmp/:/demonek/www/public/bledy.demonek.com/:/usr/local/lsws/share/autoindex:/usr/local/php/:/dev/urandom) in
/home/klient.dhosting.pl/mmkielce/mobilestage.in/public_html/wp-content/plugins/wp-appbox/inc/getappinfo.class.php
on line
433
Warning
: unlink(): open_basedir restriction in effect. File() is not within the allowed path(s): (/home/klient.dhosting.pl/mmkielce/mobilestage.in/:/home/klient.dhosting.pl/mmkielce/.tmp/:/demonek/www/public/bledy.demonek.com/:/usr/local/lsws/share/autoindex:/usr/local/php/:/dev/urandom) in
/home/klient.dhosting.pl/mmkielce/mobilestage.in/public_html/wp-content/plugins/wp-appbox/inc/getappinfo.class.php
on line
459
Warning
: tempnam(): open_basedir restriction in effect. File(/tmp) is not within the allowed path(s): (/home/klient.dhosting.pl/mmkielce/mobilestage.in/:/home/klient.dhosting.pl/mmkielce/.tmp/:/demonek/www/public/bledy.demonek.com/:/usr/local/lsws/share/autoindex:/usr/local/php/:/dev/urandom) in
/home/klient.dhosting.pl/mmkielce/mobilestage.in/public_html/wp-content/plugins/wp-appbox/inc/getappinfo.class.php
on line
433
Warning
: unlink(): open_basedir restriction in effect. File() is not within the allowed path(s): (/home/klient.dhosting.pl/mmkielce/mobilestage.in/:/home/klient.dhosting.pl/mmkielce/.tmp/:/demonek/www/public/bledy.demonek.com/:/usr/local/lsws/share/autoindex:/usr/local/php/:/dev/urandom) in
/home/klient.dhosting.pl/mmkielce/mobilestage.in/public_html/wp-content/plugins/wp-appbox/inc/getappinfo.class.php
on line
459
Warning
: tempnam(): open_basedir restriction in effect. File(/tmp) is not within the allowed path(s): (/home/klient.dhosting.pl/mmkielce/mobilestage.in/:/home/klient.dhosting.pl/mmkielce/.tmp/:/demonek/www/public/bledy.demonek.com/:/usr/local/lsws/share/autoindex:/usr/local/php/:/dev/urandom) in
/home/klient.dhosting.pl/mmkielce/mobilestage.in/public_html/wp-content/plugins/wp-appbox/inc/getappinfo.class.php
on line
433
Warning
: unlink(): open_basedir restriction in effect. File() is not within the allowed path(s): (/home/klient.dhosting.pl/mmkielce/mobilestage.in/:/home/klient.dhosting.pl/mmkielce/.tmp/:/demonek/www/public/bledy.demonek.com/:/usr/local/lsws/share/autoindex:/usr/local/php/:/dev/urandom) in
/home/klient.dhosting.pl/mmkielce/mobilestage.in/public_html/wp-content/plugins/wp-appbox/inc/getappinfo.class.php
on line
459
W The Last Vikings wcielamy się w dzielnego wikinga, a naszym zadaniem jest podbijać kolejne wioski, jak to mieli w zwyczaju nasi przodkowie. Rozgrywka jest bardzo prosta i przy tym szalenie wciągająca. Musimy jedynie w odpowiednich momentach zatrzymywać fale, aby dostać odpowiednie bonusy. Brzmi to trochę dziwnie, ale dokładnie tak to działa.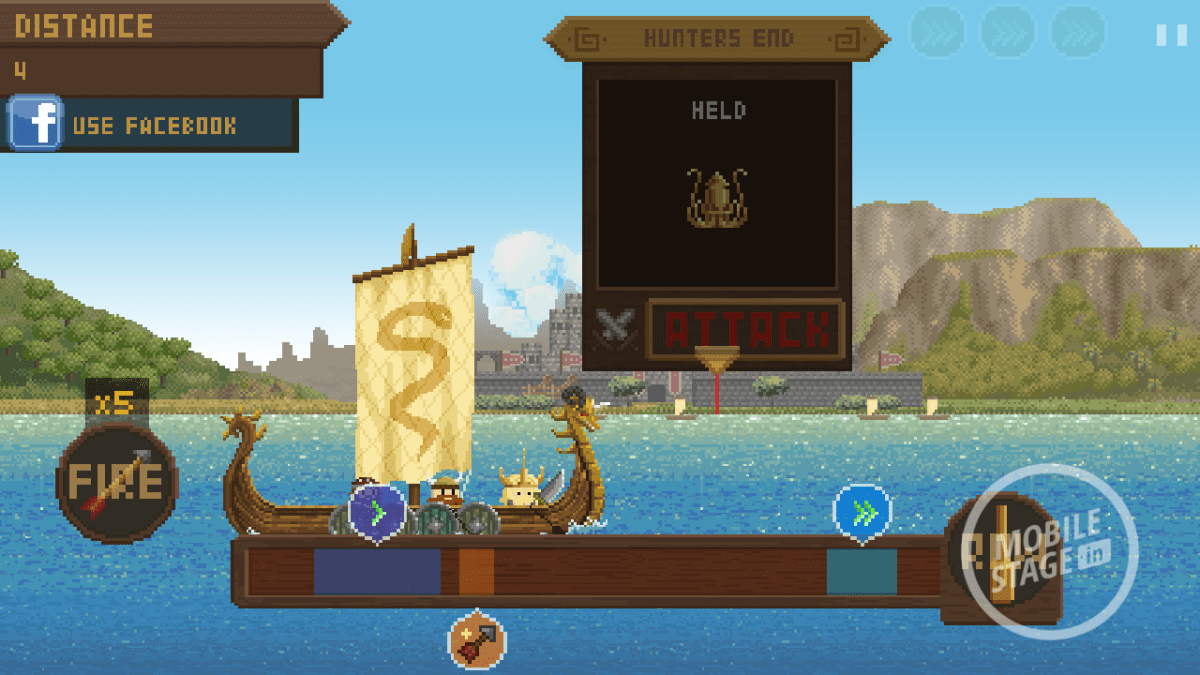 Kiedyś wikingowie byli potężnym narodem, który siał postrach na wszystkich morzach znanego wówczas świata. Niestety, nieoczekiwanie ich imperium upadło. Wcielamy się w jednego z ostatnich, którzy przetrwali – Erika, a naszym zadaniem jest odbudować dawną potęgę wikingów. Naszym celem jest podbijanie kolejnych wiosek. Aby tego dokonać będziemy potrzebować statku, broni oraz załogi. Pierwszy dostajemy za darmo, to podstawowy model, który możemy rozbudować, aby zmieścił się w nim dodatkowy bohater.  Broń zdobywamy podczas wypraw jako łup wojenny. Podobnie jest z załogą.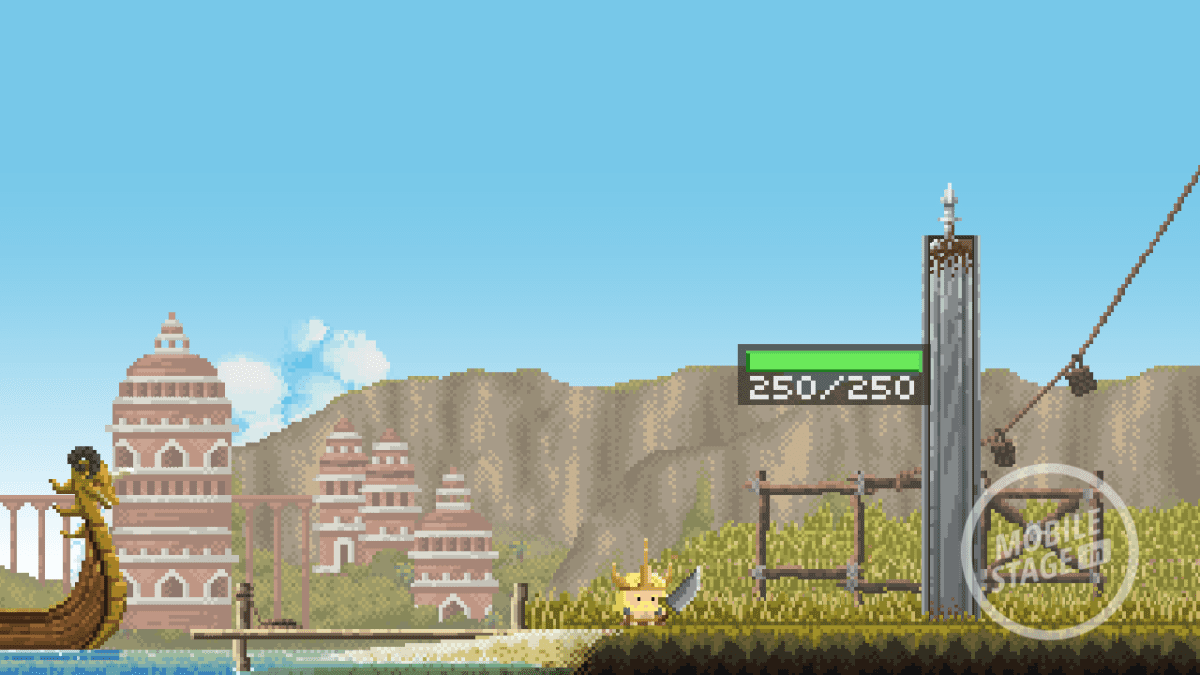 Aby zaatakować wioskę musimy najpierw do niej dopłynąć i zniszczyć jej obwarowania. Może nam to zająć nawet kilka wypraw. Atakujemy bowiem tylko bohaterami, których na początku gry mamy bardzo niewielu, dlatego przy jednej wyprawie uda nam się zaatakować bramę wioski raz, maksymalnie dwa.  Kiedy już przebijemy się przez nią będziemy musieli przejść serię pojedynków z jej mieszkańcami i bossem na końcu.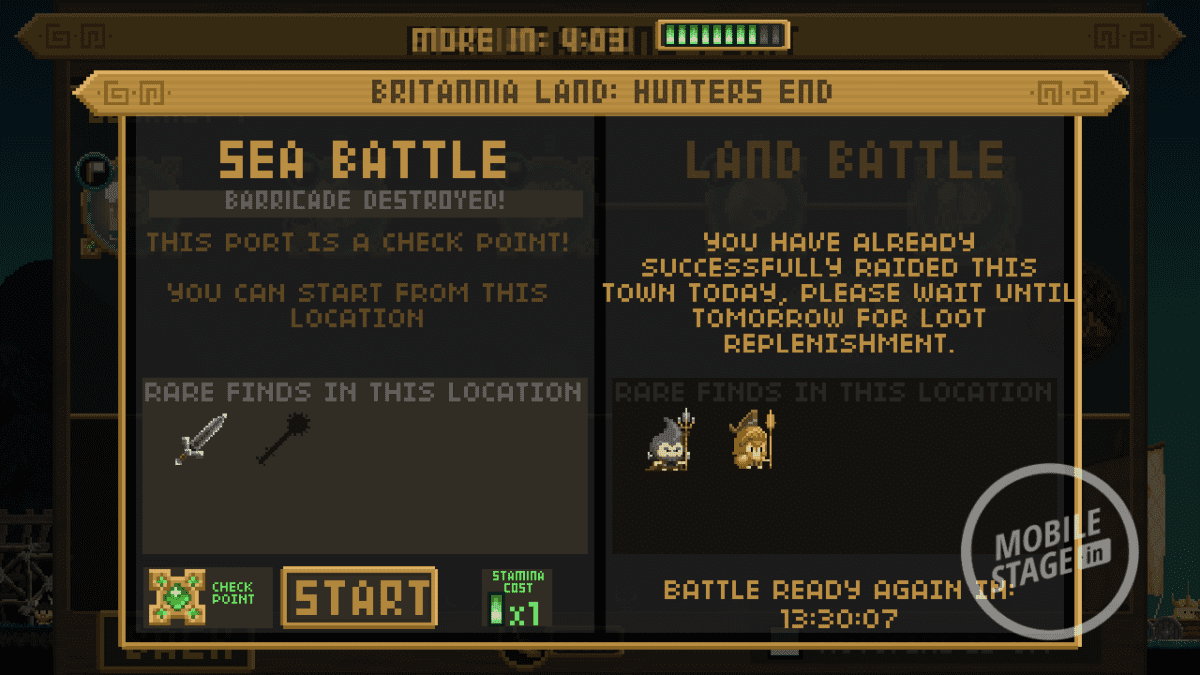 Gra posiada też elementy RPG. Bohaterowie, których zabieramy na wycieczkę zdobywają doświadczenie.  Dzięki niemu mogą awansować na kolejne poziomy i tym samym poprawiać własne statystyki.  Bronie, które dostajemy na wyprawach również możemy ulepszać. Potrzebujemy do tego trochę złota, dwóch takich samych broni oraz niemało szczęścia.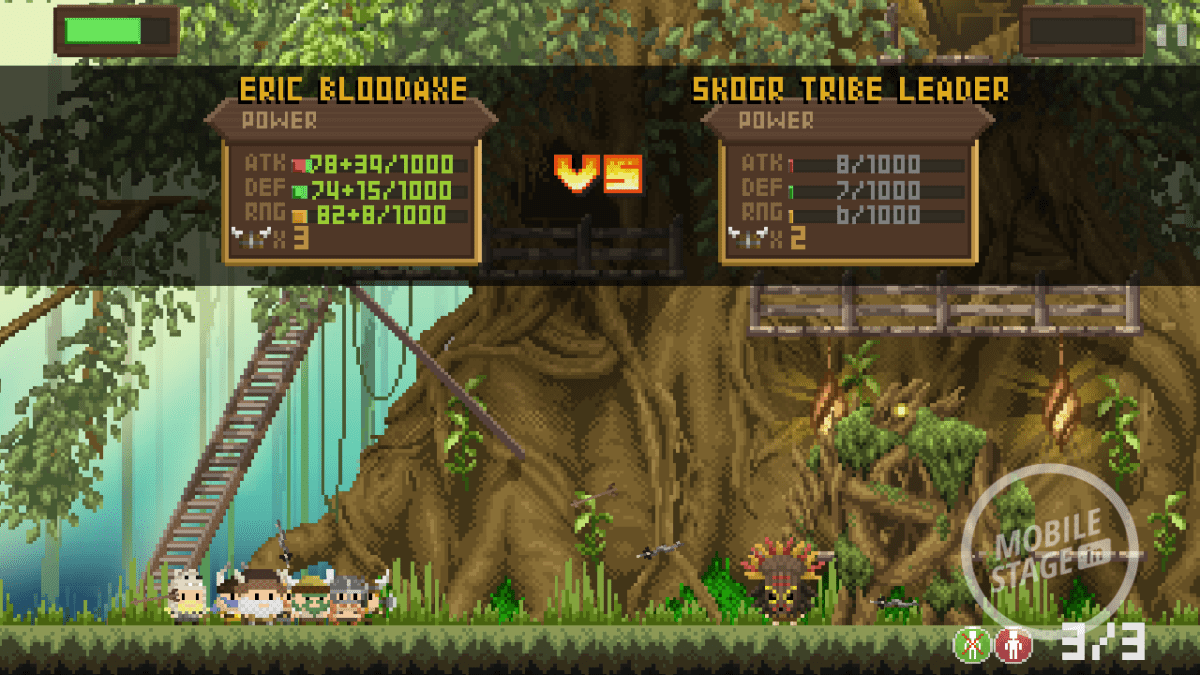 Oprawa audiowizualna gry stoi na wysokim poziomie. Pixelartowa grafika wykonana została z dużą starannością o detale.  Minusem jest 8-bitowa muzyka, która niestety po dłuższym czasie zaczyna denerwować.  Składające się na nią utwory są toporne i niezbyt zachęcające do dłuższego zostania przy tej produkcji. Proponuje więc wyłączyć dźwięki i delektować się rozgrywką, która dzięki swojej oryginalności i klimatowi potrafi dać masę frajdy.